Meet The Innkeepers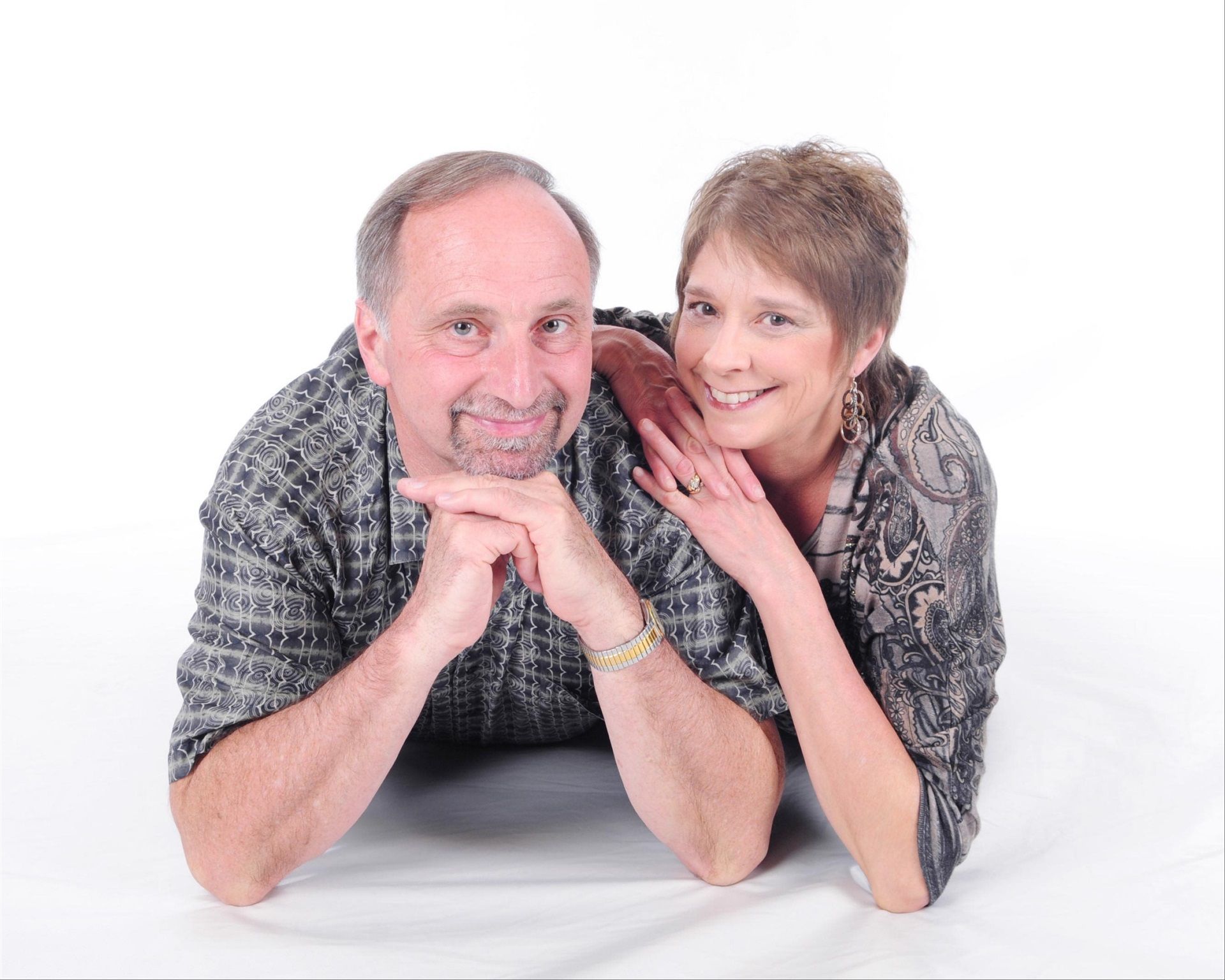 Meet your hosts, Ron and Judy Halma – innkeepers extraordinaire! Whether hosting a dinner for friends, checking in guests or giving a tour of their inn, they embody a passion for excellence.
We recently spent the evening with Ron and Judy, enjoying dinner and their warm mid-western hospitality. After Judy served us a fantastic meal, she gave us the grand tour of the Franklin Street Inn, and then Ron showed us Franklin Inn on Durkee. We were impressed – not only by the spaces they have created, but by our hosts themselves. Ron is an educator. He has taught on both the secondary and college level and currently serves as the head administrator for a private Christian school. Judy also has a teaching degree, having taught in the art field.
How do two academic minds end up in the hospitality business? Judy says it has been a journey, with each step of her life laying groundwork and preparing her for the fun of running an inn. Throw in the fact that they have three married children and seven grandchildren, and you will see another piece of life experience folding nicely into the art of making people feel at home. And, having traveled internationally, leading European tour groups, Ron and Judy know what kinds of accommodations provide a stellar travel experience!
Judy's interests include decorating, cooking, baking, gardening, collecting and restoring antique furniture – great creative outlets for an artist. Her guests reap the benefits of her gifts and talents as they stay in her beautiful rooms, taste her cooking, and enjoy her gardens. Her sunny nature and zest for life are fascinating. As we toured the rooms, she was in her element pointing out changes and upgrades, indicating her constant drive to present the absolute best experience for her clientele. She wears all the hats in this organization – with help from Ron and others here and there—totally hands-on with improvements, renovations, housekeeping, cooking, etc. While she runs an extremely classy inn, she also presents a down-to-earth side that makes her welcoming and approachable.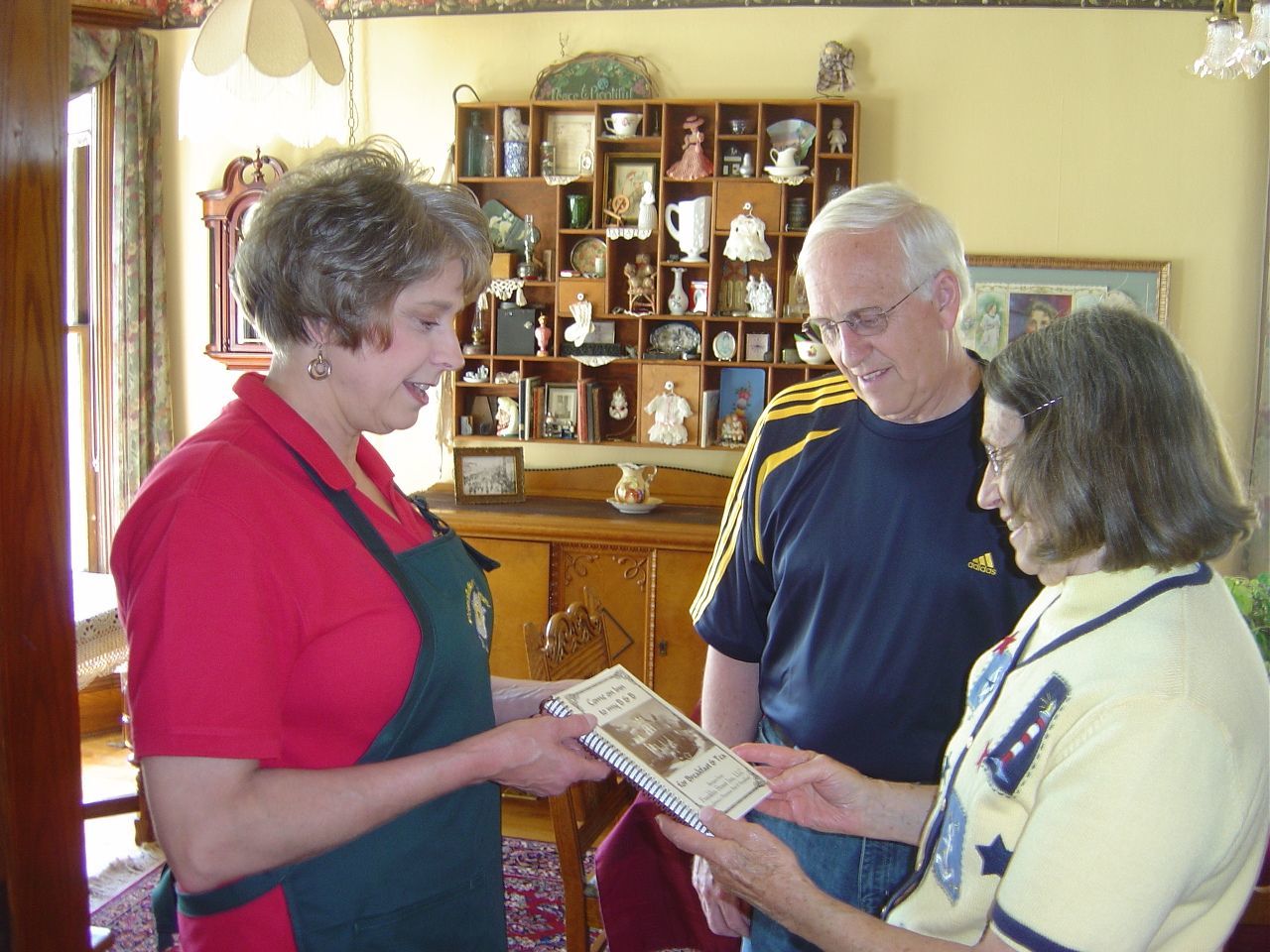 Judy shows her guests the cookbook that she published (above)
Ron assists Judy in her work on weekends. Ask him about his renovations at either inn. Ron lights up when sharing some of the construction challenges through the years. He explained some of the engineering involved in adding baths, moving walls, and re-enforcing structure. He even removed--then replaced--part of a wall to accommodate Judy's decorating needs, problem solvers – both of them!
As we finished our evening with them, sitting in the kitchen gabbing over dessert, Judy was busy with final preps for breakfast for the next day. I am not sure the lady ever sleeps! Something fitting about innkeepers never sleeping in order to make sure their guests are resting easy. I understand why their sign reads, "Arrive as a stranger, leave as a friend."
Judy & Ron, innkeepers
Our wish is for all future guests to get excited about what is waiting at this inn. Perhaps knowing who we are, is best perceived through someone else's eyes. We welcome future guests because the experience created here is only missing YOU!
Thank you Gaylene Wood Davis for writing our innkeeper story.
General Inquiries
Franklin Street Inn Bed and Breakfast
318 East Franklin Street
Appleton, Wisconsin, WI 54911, United States
info@franklinstreetinn.com
+1 920 2099711