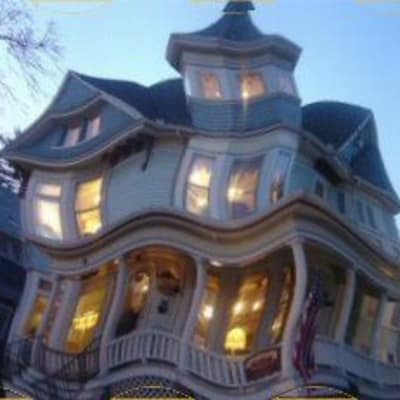 It is a Murder Mystery!
It appears there was a murder...
Your group members become the murder mystery characters/actors in an intriguing tale of treachery, deceit and death! Will your group solve the mystery?! These events are a great time for everyone involved - guests soon see a new side of the people that they thought they knew and leave with many memories of bonding with new and old friends, co-workers, or relatives.
Murdery Mystery events come with all the ambiance of a bygone era, including:
1897 Queen Anne Victorian house
Inviting fireplace in the parlor
Period antique décor
Oak woodwork
Pocket doors
Grand staircase
Stained and lead glass windows
Vintage chandeliers
Our Elegant well-appointed rooms/suites are available for your overnight stay. Lodging amenities include:
Pillow Top King, Queen & Twin beds
Luxury Linens
Private Baths & Showers
Whirlpools & Fireplace suites
Central Air-conditioning
Smart TVs
Plush Robes & Hairdryers
Look at past murder mystery parties on either website on our Facebook or our blog! View the other tabs on this page for more information.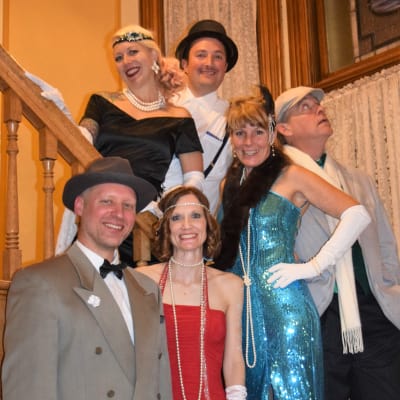 Themes & Stories
What Will the Plot be for Your Murder Mystery?
Each theme was designed for a certain number of main characters or participants. To accommodate more participants, we can add investigators, witnesses, or distribute administrative duties [a guest(s) read pages with evidence or character introductions].
Perhaps you can't decide on which theme is best. We can discuss the options with you based on your group. If more than one theme looks good, you could also book your next event with us to solve another themed mystery.
If you do not find the theme that would be best for you, please let us know. We can discuss options based on your group, or we may be able to purchase an additional theme for your group's needs.
---
A Few of Our Theme Types (others available):
1) Vintage Western
8- 16 participants
10 characters & add on roles to 16 guests max
Also re-written for an all-female group
2) New Year's Eve or Cocktail Party
6-12 participants
8 characters & 4 add on roles to 12 participants maximum
3) Halloween or Costume Party
6-10 participants
7 characters & add on roles to 10 participants, additional investigators to 20 guests maximum.
Costumes for characters include: pirate, desert sheik, queen and more!
4) 1950's Sock Hop
8-16+ participants
Guests should arrive on our scene in fabulous '50s attire.
Discover the street gang problems with the West versus the East side of town and solve this murder mystery.
5) Classic Inheritance Scheme
A rich relative dies; who will inherit the money?!
8 - 16 participants
Up to 16 characters or investigators
The 8 main characters are 4 married couples
Maturity note: One character mentions he had a vasectomy when his wife announces she is pregnant. Adult guests typically groan or laugh because it adds a funny punch.
6) Bachelorette Party or Women's Groups
All female cast
Costumes include golf pro, sea captain, rodeo rider, lawyers and more successful women in successful careers.
Designed for 10-15 female participants

7) Death at a Winery
An evening of wine and cheese at the Vineyards celebrating the winery's tenth anniversary. The owner's body was found near the oak casks in the wine cellar.
Characters include wine makers, innkeepers, vintners, and other townspeople.
Designed for 8 or more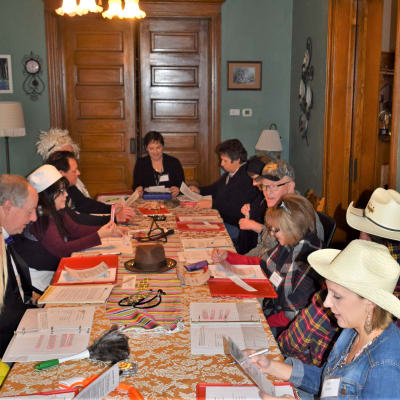 Rates
Because we are primarily a lodging facility, Murder Mystery guests are asked to stay overnight at the inn when they do not live in the Fox Valley Cities. Of course local guests are always welcome to stay at the Inn as well.
Businesses and Private Parties
Businesses and private parties are welcome to contact us to rent the use of the Inn and employ us to host murder mystery events for employee or personal social events. Each contact person is required to inform all guests attending their murder mystery event that we are a lodging facility. Our inn should be used as your first choice for lodging on the night of the murder mystery event for anyone attending from out of town. The Inn purchases a complimentary light appetizer or dessert reception; however no meal is included with this fee. We can include use of all dishes, linens, kitchen, and clean-up for your potluck or catered meal at a nominal fee, and we can assist you with creative meal options if you desire (based on the theme you choose).
The base price is $200.00 plus $15 per guest for a 2-3-hour event
Minimum is 6 guests for an event
Base package includes rental of the inn for the 3-hour block of time
Extending the time beyond 3 hours will require an additional fee of $25.00 per hour
Call us for custom pricing
Overnight Lodging Group
For groups of 6-8 staying overnight for 1 night, the 3 hour event cost is adjusted based on number and type of rooms rented. Call us for custom pricing. Select any room(s) or suite(s) that you wish. Option: If guests purchase over-night stay gift certificates, that would also count as "staying guests" to merit lower rates. A complimentary light dinner, or appetizer or dessert reception is included, meals can be upgraded to full or fancy for additional fee. Guests are provided breakfast as part of their regular overnight stay.
Each event is individually priced - call us for pricing
We can customize pricing for groups of more than 8 people as well.
Two Night Lodging Group
For groups of 6-8 staying overnight for 2 nights, the 3 hour event rate is based on number and type of rooms rented. Call us for custom event pricing. The 2 night event can include: 2 night rental of 3-4 rooms with full home-cooked breakfast each morning, the murder mystery event, a wine & cheese social with the event, catered light supper with the event, afternoon refreshments, evening desserts, and always the use of the main floor dining and parlors for socializing and playing games.
Each event is individually priced - call us for pricing
We can customize pricing for groups of more than 8 people as well.
By law, 5% sales tax is added to the event rates; lodging and sales taxes apply to room rentals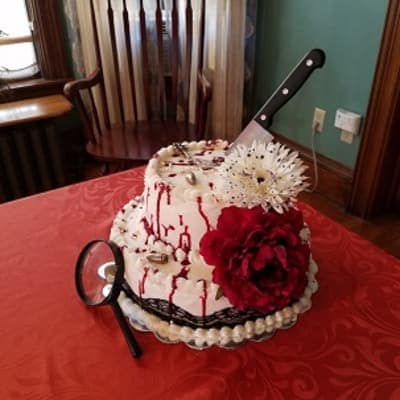 Booking Details
How to Arrange for a Murder Mystery Event
Whether it is a birthday, retirement party, bachelorette night, team building for staff, holiday party, or an anniversary, let us help you with your event! Held in a historical record home with elegant room décor, a table is set with centerpieces matching the chosen theme. Typically the party includes food, which can be reception food, buffet style, plated or potluck. We do not have a commercial kitchen or a license to handle food other than breakfast, so when you book with us we will work with you regarding a caterer, food delivery, or bringing in your own potluck food. Rates will vary based on your food choices, and whether you wish for us to handle the catering. With any choice, we can assist you in selecting creative meal choices that complement the theme you choose. Limited alcoholic beverages are permitted on-site. We believe that the event and site is what makes the occasion special!
After agreeing upon a date (two weeks or more in advance for us to plan effectively with you) and paying the event deposit, we work with the group organizer to send out invitations, character list with costume suggestions, role playing instructions, and/or any necessary or additional information needed for the event and theme.
Call the Franklin Street Inn at 920-209-9711 for your group to reserve a place on the calendar to solve one of our themed Murder Mysteries!
Contact us at info@franklinstreetinn.com for more information.