October 3, 2017 by: Keith Hansen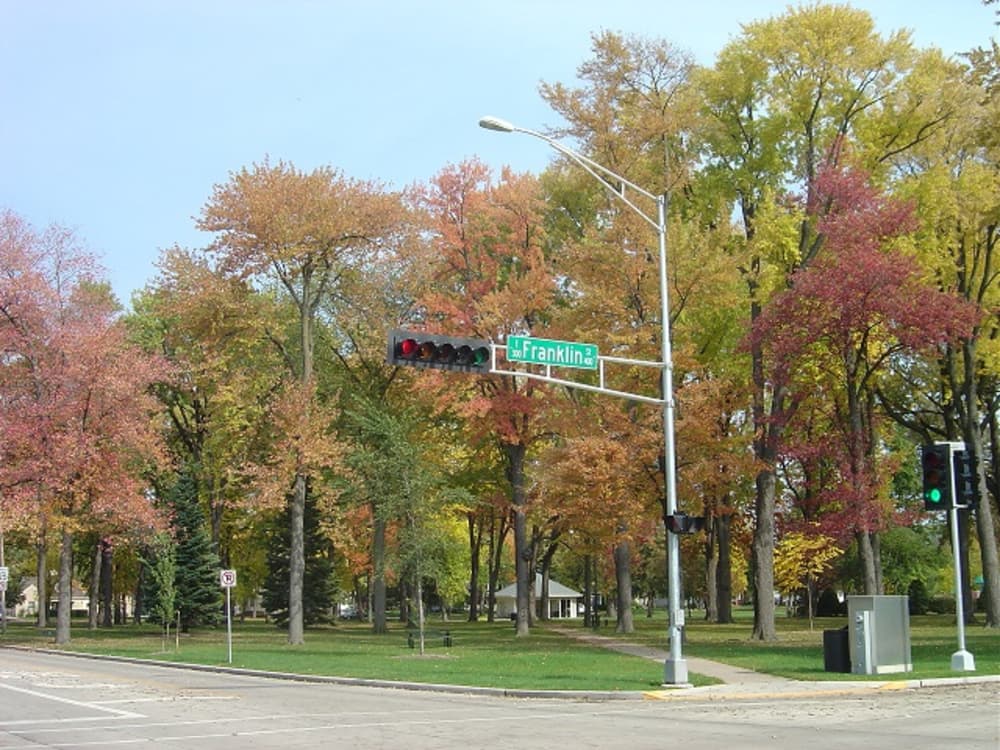 Fall in the Fox Cities
September 1st marked our first anniversary as innkeepers at the Franklin Street Inn Bed and Breakfast. Thank you to all who made our first year a success! Lori and I are especially thrilled that we get to celebrate this anniversary of happy endeavors in our favorite season: Fall!
To us there is nothing better than grabbing a warm mug of apple cider, pumpkin spiced beverage, or just a hot cup of our fresh ground and brewed coffee, sitting on the elegant wrap-around porch of the inn, taking in the crisp fall air, and watching the autumn leaves change (lucky for us Appleton definitely has plenty of leaves!). Above is a past picture of the Fall foliage at City Park - just a few doors down the street from us. Below are fall decorations at the Inn: the back garden wagon and the parlor fireplace. Two great places to enjoy the ever changing fall weather!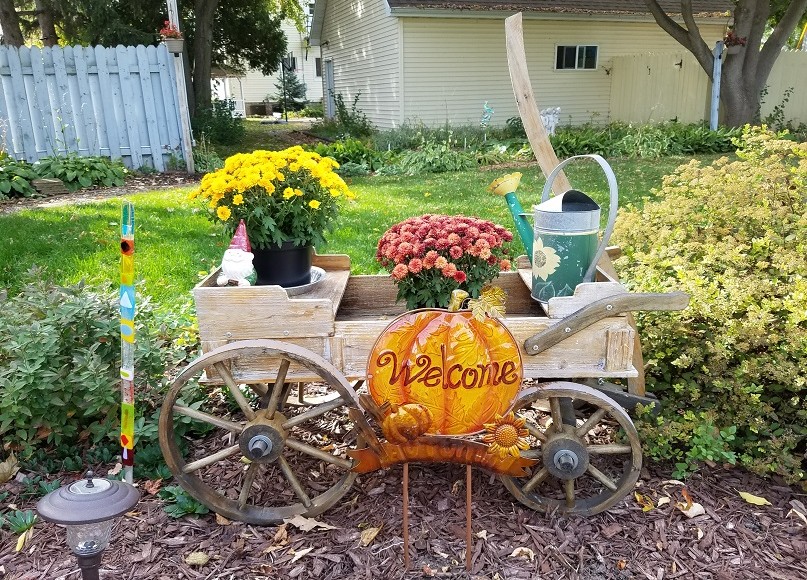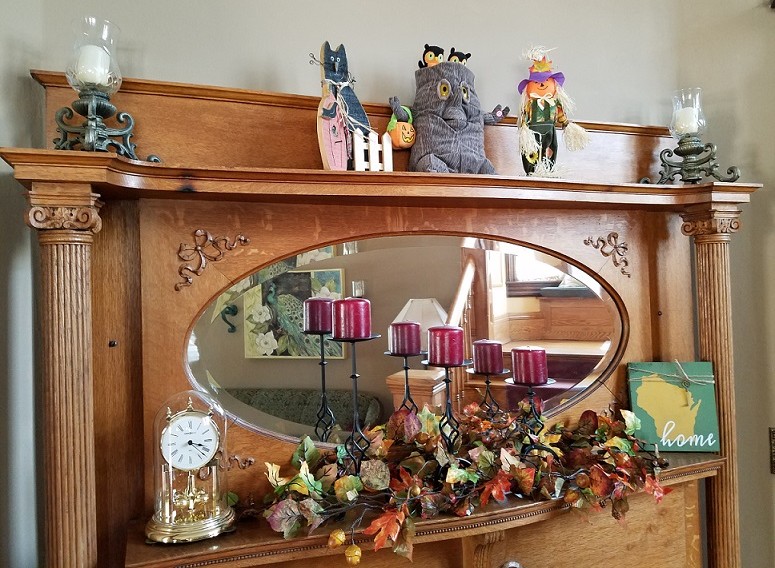 As an avid baseball fan, I admit that sometimes I like to take the iPad or a radio out on the porch and watch or listen to the games as teams play their way through to Baseball's Fall Classic. Even though the Brewers didn't make the wild card spot this year I can still root for the Cubbies to do well again this year.
Another great highlight of Fall is the start of the Football season. We love watching the college games on Saturdays, cheering on the Badgers and our alma maters. With Appleton so close to Green Bay, much of the local buzz is centered around the Packers. Fans abound and we benefit from both Packers fans and rival fans who come for the games and stay for the Appleton hospitality. The fans enjoy the traditional Packers' tailgates of brats, beer, and lots of cheese (who can resist!). Lori and I especially enjoy meeting the variety of football fans from all over the country who make the pilgrimage to Lambeau!
Speaking of brats, beer, and cheese, Appleton and the Fox Cities communities have begun their annual series of Fall Festivals and events. Some of our local festivals and events include:
Cuff Farms' Pumpkin Season - Sept 23-Oct.29
Hilbert's Pumpkin Harvest Celebration - Oct. 1-31
WOW-We Care Charity's Barnyard BBQ Bash - Oct. 6
Menasha's Creepy Crawlies Halloween Event - Oct. 6-7
Neenah's Children's Day at the Haunted House - Oct. 7 & Oct. 28
Appleton's Downtown Farm Market - Oct. 7, Oct. 21 & Oct. 28
Menasha's Shades of Fall Festival - Oct. 7
Amaze & Grace's Celebration & Vintage Market - Oct. 7
Germanfest Potluck with Music by Jim Vollmer - Oct. 9
Appleton's Romp in the Autumn Swamp - Oct. 21
Neenah's Farmers Market Fun Day - BooFest - Oct. 21
Appleton's Flannel Fest 2017 North - Nov. 3
Appleton's Light-Up Night & Window Walk - Nov. 10
Appleton's 10th Annual Turkey Trot - Nov. 23
And this is not a complete list, there are many more. So please visit The Fox Cities Visitors Bureau website at http://www.foxcities.org/ and Appleton Downtown, Inc.'s website at https://appletondowntown.org/upcoming-events/ for more information.
In closing I'll share a Fall Poem written by my daughter Katy, who also helps write blogs for us:
May your bellies be filled with pumpkins, apples, beer, brats, and cheese
Your eyes with the beautiful colors of fall leaves
May your ears be filled with the sounds of screaming fans
Your hands with trinkets from Festival vendor vans
May your lungs be filled with crisp autumn air
As your voices slowly begin to prepare
All of us for winter's snow
By happily chanting: "GO PACK GO!"
Happy Fall from the Franklin Street Inn Bed and Breakfast!