July 10, 2017 by: Lori Hansen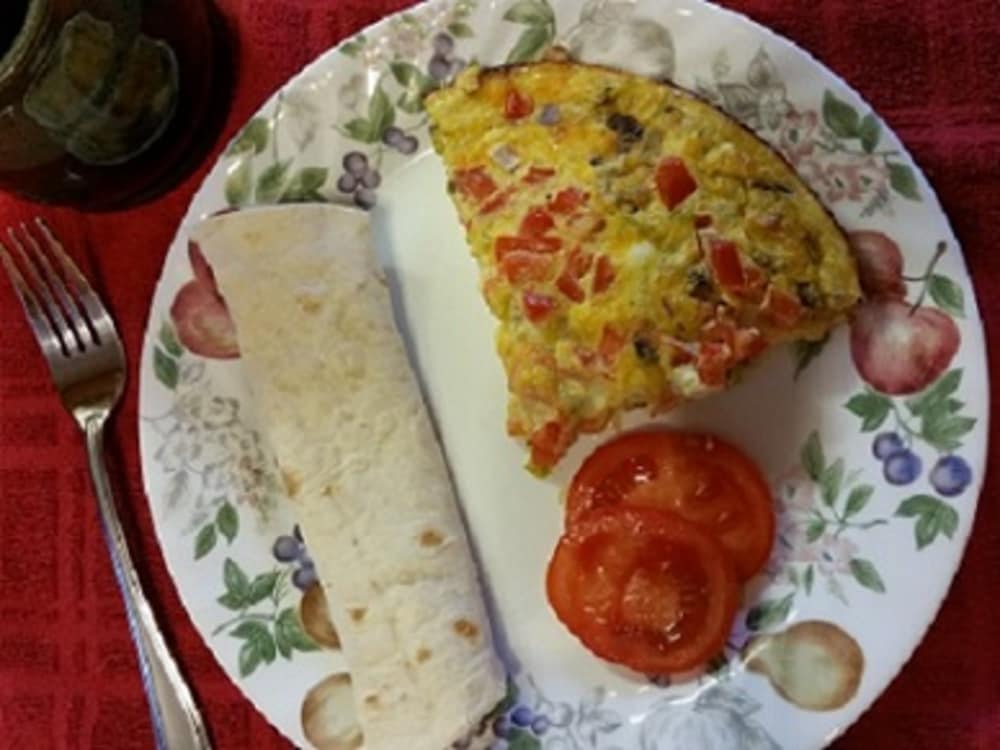 Chipotle Chicken Quiche
Chipotle Chicken Quiche! This creation came about because my husband Keith loves to "play with his food". He's one of those cooks who says "hey, let's add a little of this and a little of that" and it cooks up wonderfully! This recipe is a variation of one from the cookbook Come on Inn to my B&B for Breakfast & Tea: Franklin Street Inn Recipes. This time, however, I made him write down what he added so we could replicate it for our next cookbook edition. It's that tasty!
Chipotle Chicken Quiche: Yields 4 large or 6 small pieces.
5 eggs- beaten OPTIONAL:
1 (4oz) can green chillies, chopped Chopped onions, to taste
1 c. cottage cheese, small-curd Salsa
1 c. Cheddar cheese, shredded Chopped green pepper
1 cup shredded (or cubed) chipotle seasoned chicken
1 tomato, peeled, chopped and deseeded
Preheat oven to 375. Combine the eggs and green chilies in a large bowl. Next, add cheeses and sausage. Add optional items if prefer. Pour mixture into a well-greased 9-inch pie pan. Bake for 15 minutes. Add deseeded tomatoes to top of quiche. Bake another 20 minutes. To check if it is done, place a knife in the center of the quiche If it comes out clean then your quiche is finished. Let the quiche stand 5 minutes before serving.
Serve the quiche with a warm tortilla, salsa and slices of fresh tomato. Enjoy!!