April 29, 2016 by: Keith Hansen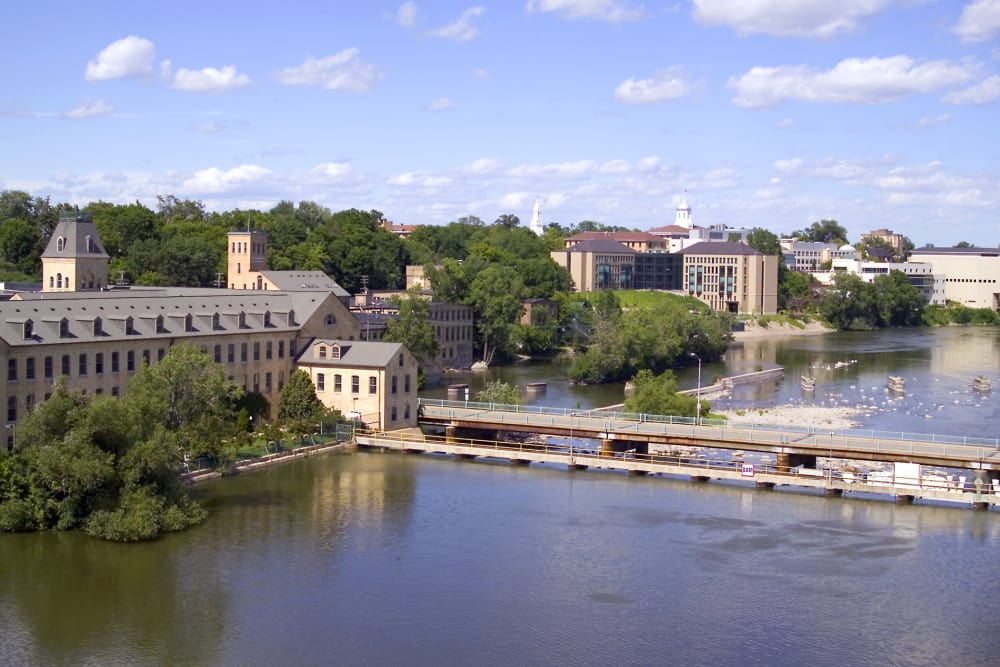 Best Kept Secrets
Did you know?...These facts should help you get more out of your trip to Appleton, Wisconsin.
1. Appleton is a river city.
Built up around the mighty Fox River adding to the city's visual appeal. The Fox River is one of only a few rivers that flows north. Today this river has 17 locks with a lock system that is one of two hand-operated lock systems still remaining. The vertical drop of the Fox River from Lake Winnebago to Green Bay is 168.3 feet.
2. We are a college town with a scenic Lawrence University campus,
420 E. College Ave.
Our city is definitely given cultural appeal by the many events being held here. Lawrence University is proudly profiled in "Colleges That Change Lives". The Conservatory of Music ranks among the best in America among small language arts universities. Go to Wriston Art Center to view their art holdings comprising more than 3,000 objects in a variety of media: including early modern European and American art; special collections of German art, Japanese prints, and Oceanic artifacts; Ancient and Byzantine coins. The art center features new exhibits five times a year.
In 1853, L.U. main hall was constructed before Appleton became a city. The main hall's facade used white stone quarried from the Fox River. Rumor has it that the Main Hall tunnel, which led up from the Fox River prior to the Civil War, is evidence that the building was a stop-over on the underground railroad.
Here is a photo of Lawrence Memorial Chapel, built in 1918. The 1,248 seat chapel is the primary venue for public events such as the Artist and Jazz Series, Conservatory orchestra, choral and ensemble concerts, public meetings and the convocation series.
3. Appleton is incorporated as a city in 1857. Numerous firsts in this area:
First white man to enter the Fox River Valley was in 1634 (13 years after the Pilgrims landed at Plymouth).
First hydroelectric power plant began operation on Appleton's Fox River in 1882.
World's first home lit by a hydroelectric central station, Hearthstone (Try to tour!)
World's first commercially successful electric street railway, Appleton Electric Street Railway Company, began operation.(View restored trolley at Pullman's.)
Home to celebrated author and Pulitzer Prize winner, named Edna Ferber.
Home to the controversial politician, named Joseph McCarthy.
This Famous Big League slugger, Alex Rodriguez, began his Yankee career here in 1994 with the Appleton Foxes, now called the Timber Rattlers.
The world-renowned ventriloquist and vaudeville performer, Robert Neller, is laid to rest in Appleton's Riverside Cemetery in 1989.(Block 3, Lot 27, Gr. 5)
Menasha is "the most built on city in the Valley", when it comes to Indian mounds. The Hill of the Dead on the western shore of Little Lake Butte des Morts proved problematic
for railroad workmen. In 1863, the development for the Northwestern Railway required the tearing down of this hill.
Home to escape artist and magician, named Harry Houdini. He ran away from this home at the age of 12.(See his landmark in front of Zion Temple, 320 N. Durkee St., located next door to Franklin Inn on Durkee.)
4. The area has a rich history of paper-making and innovative use of the
river's power.
The Fox River Valley has the greatest concentration of paper mills in the world.
· Georgia Pacific
· International Paper
· Kimberly Clark Corp.
5. Wisconsinites are nick named "Cheese Heads".
Wisconsin is known as a dairy state. We have 6 cheese factories in our area. Tour and Taste! Ask any one about what food goes with absolutely everything…cheese, cheese, or cheese? Buy and take home the most popular Wisconsin souvenir, cheese! A popular breakfast strata at our bed and breakfast is Wisconsin Cheese Curd and Brat Strata. If that sounds like what you definitely want for breakfast while in Appleton, make sure that you request it.