The Inn
Victorian Charm with Modern Comfort
Welcome to the Franklin Street Inn
Franklin Street Inn is a Best of the Valley award winning Appleton bed and breakfast. Our priority is a relaxing and comfortable experience. Victorian Charm with Modern Comfort includes exceeding your expectations with the comforts of home and more.
"Come and relax with us". Experience comfort and elegance when you sleep on our fine linens and pillow-top beds. Fluffy towels and plush robes combined with whirlpool baths and cozy fireplaces will keep you coming back for more. Your delicious and elegant full breakfast is waiting for you.
The beautifully landscaped grounds with an elegant garden setting is one of the many seasonal features for you to enjoy.
Only steps away you will enjoy downtown Appleton events and attractions. Feel like a short drive to Green Bay or Door County? Your concierge service is our pleasure!
Our bed and breakfast combines the comforts of a gracious home with authentic period décor offering the amenities of a full-service luxury hotel:
Complimentary off-street private parking
Private bathrooms, suites also have whirlpools
Fireplaces in our suites and in the guest parlor
Top-notch beds with pillow tops
Wireless Internet access
Smart TVs with cable channel app
Complimentary Concierge Services
Comfortable sofas and easy chairs
Enjoy our wrap-around porch and flower gardens
Plush robes and towels
My Miracle Pillows and high quality linens
Central air-conditioning
Hairdryers, alarm clocks, iron and ironing board
Choices of complimentary beverages
On-site massage therapy by advanced appointment
Elegant full home-cooked breakfast in our formal dining room (breakfast service available to your suite)
Give someone the gift of time with a special person to create special memories and an opportunity to relax, refresh, and recharge.
Call for more information: 920-209-9711
Our Breakfast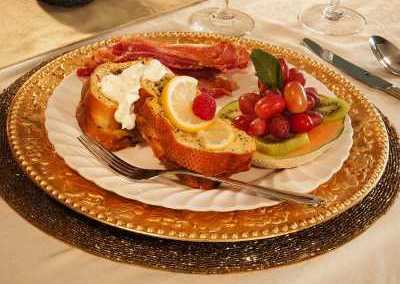 Come on over:
Discover life at its best & enjoy breakfast cooking from scratch.
You will smell the wonderful aroma of home-cooked food drifting up to your bedroom!
Life at our inn is comforting because you can:
Sit a spell, linger at our dining room table with warm conversation.
Let time stand still & reflect on the elegance of the 19th century in our formal dining room.
Can I share with you on your next visit?
Ask us for our recipes.
Ask us about our favorite dishes to prepare.
What makes the difference?
Our desire to share the best in what a seasonal breakfast can be.
We offer hospitality and food to guests in our home so that memories can be made.
During your dining experience, you may...
Eat family style in our formal dining room or in the privacy of your suite.
Socialize with others around the breakfast table - that is what many guests look forward to at our inn.
Hopefully be added to our growing testimony list soon?
---
SEASONAL MENUS
Fall Menu (September-November)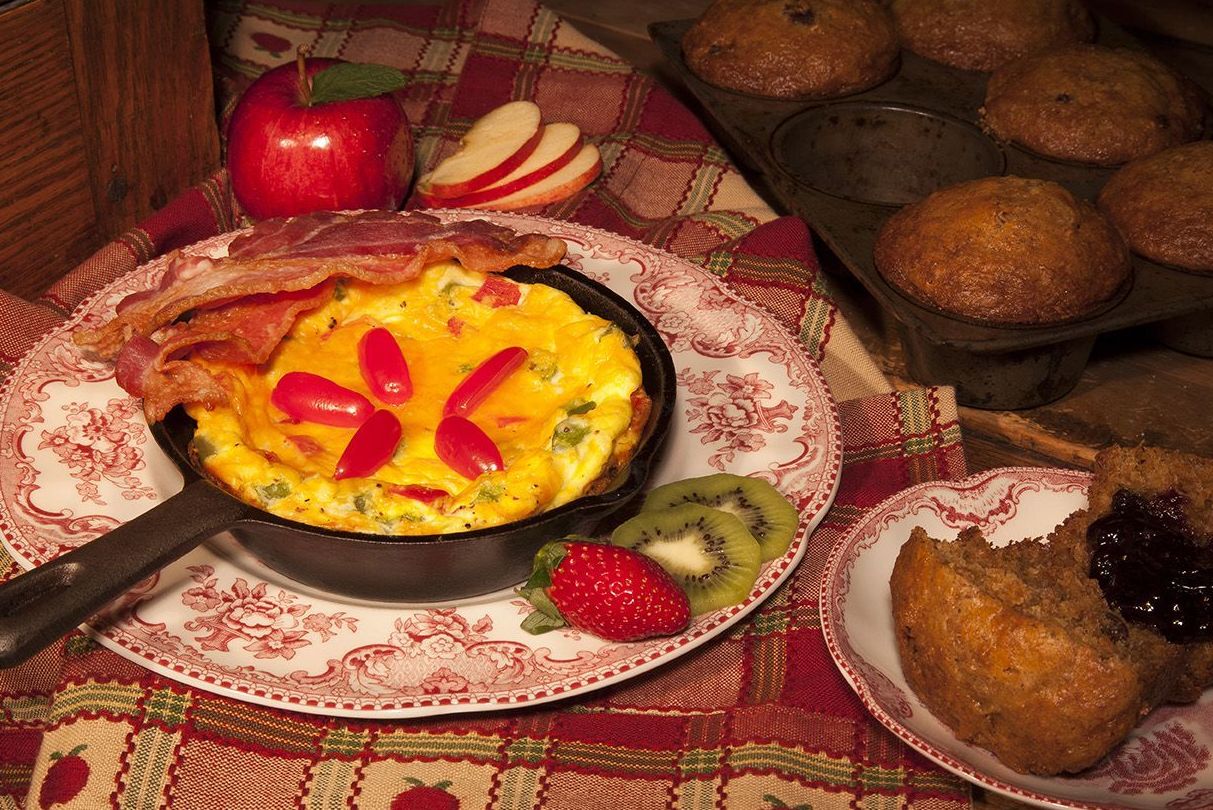 Breakfast Skillet & Muffins
Baked Apple with meringues or crumble topping
Wisconsin Four-Cheese Lovers' Eggs with Wisconsin Nueske Applewood Smoked Bacon or Falling in Love with Egg Bake
Cranberry Fritters, Pumpkin Bread Pudding with signature topping or Apple Dumplings
Icelandic Lemon Mousse
Winter Menu (December-February)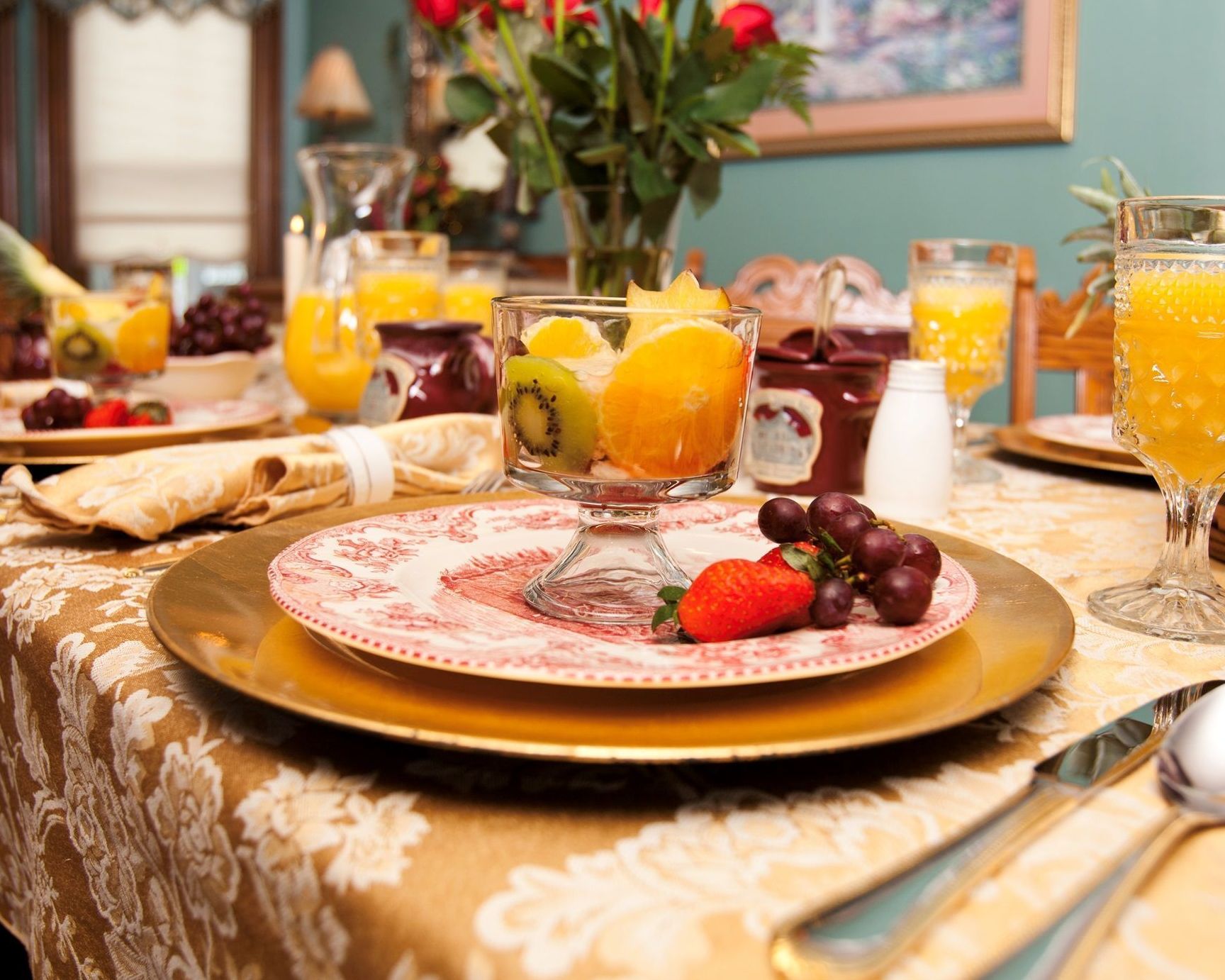 Warms you through & through Hot Cider Cranberry Drink
Slowly simmered crock pot spiced fruit medleys Oh So Good Hot Fruit
Featuring Wisconsin Door County dried cherries & apples Wisconsin Baked Oatmeal
Wisconsin Cheese and Brats Strata
Blue Ribbon Eggs with a light touch of chocolate & caramel
Turtle Toast Royale
Spring Menu (March-May)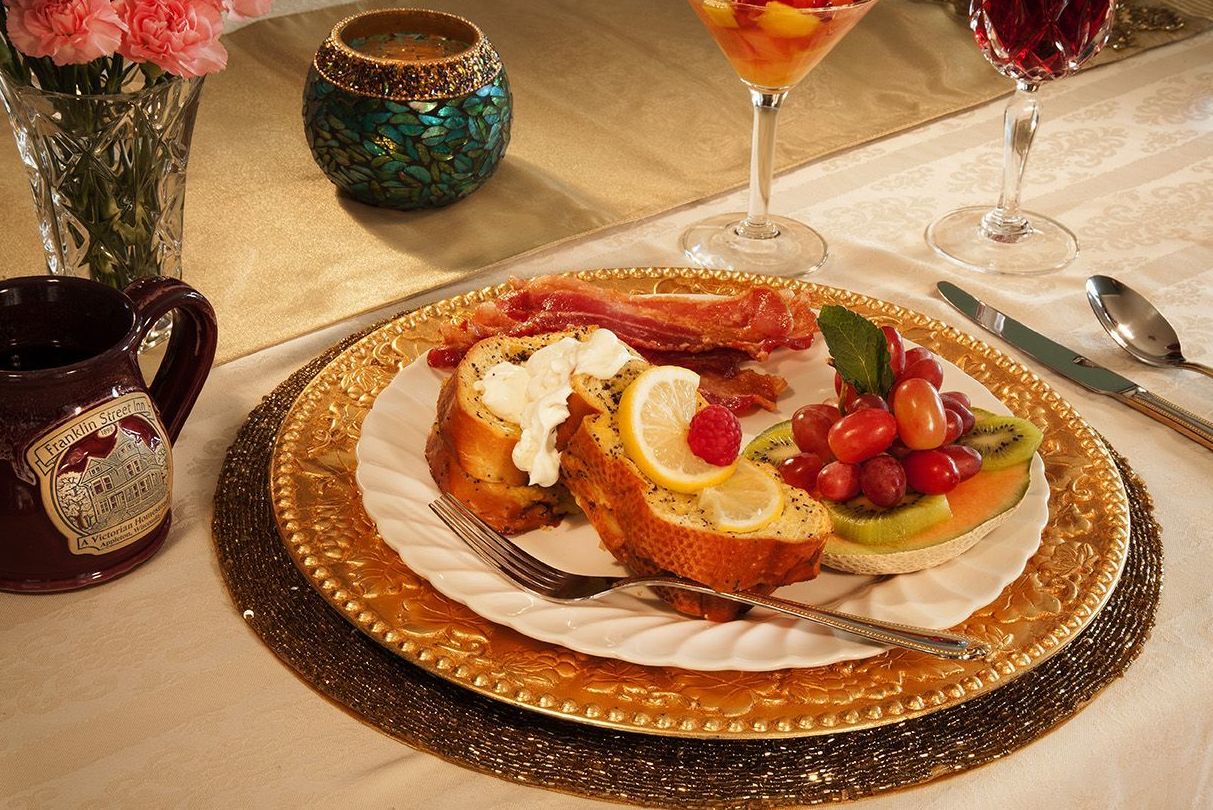 Berry Good Smoothie
Fresh rhubarb from the garden - Rhubarb Tapioca Pudding
Cordon Bleu Strata
Creamy Ham & Egg Cups
Strawberry Muffins with our signature cinnamon-honey butter
Apricot Cream Scones
Summer Menu (June-August)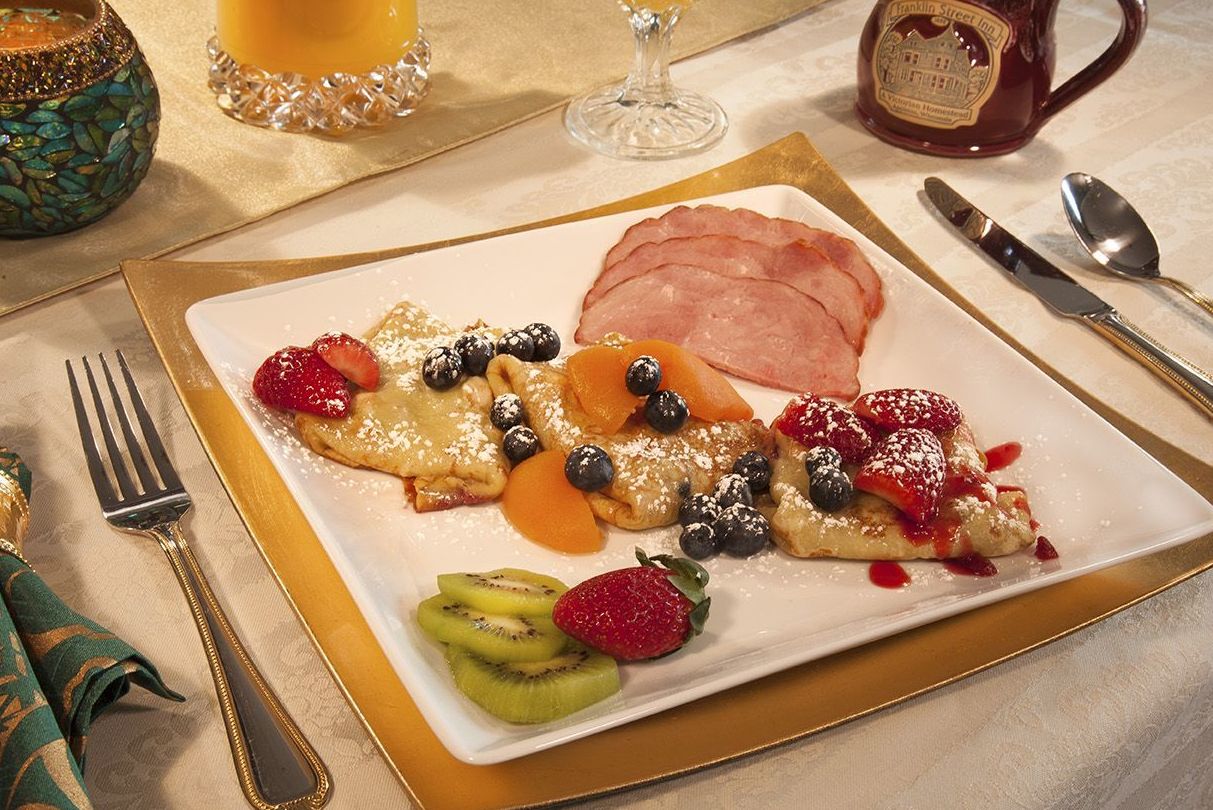 Fruit Crepes & Ham
Fresh seasonal fruits enhanced by a variety of our Fruit Dressings
Garden Veggie Quiche/with Jones sausage from Fort Atkinson, WI (all natural & gluten free)
Fresh Blueberry Streusel French Toast
Strawberry Crepes
Refreshing Fruit Sorbet
Floor Plans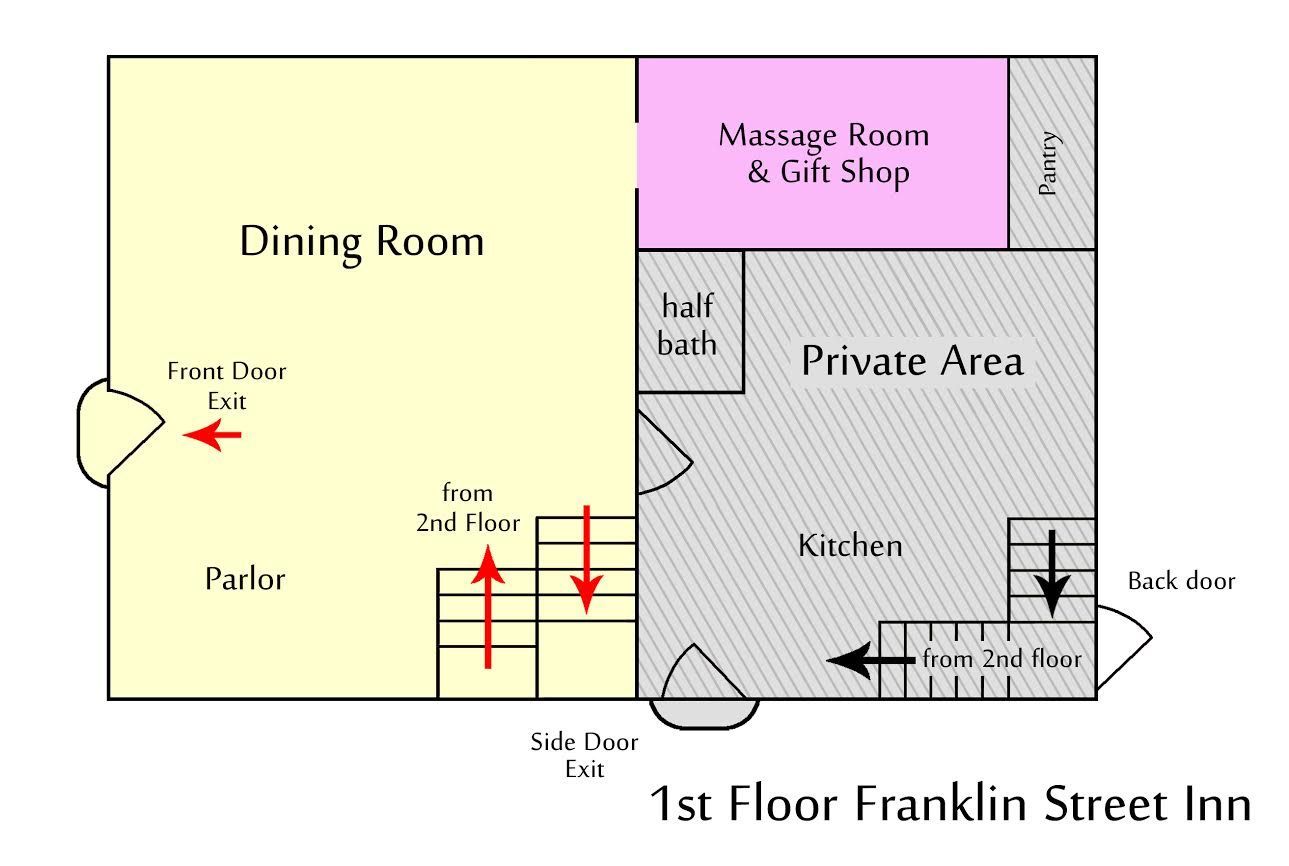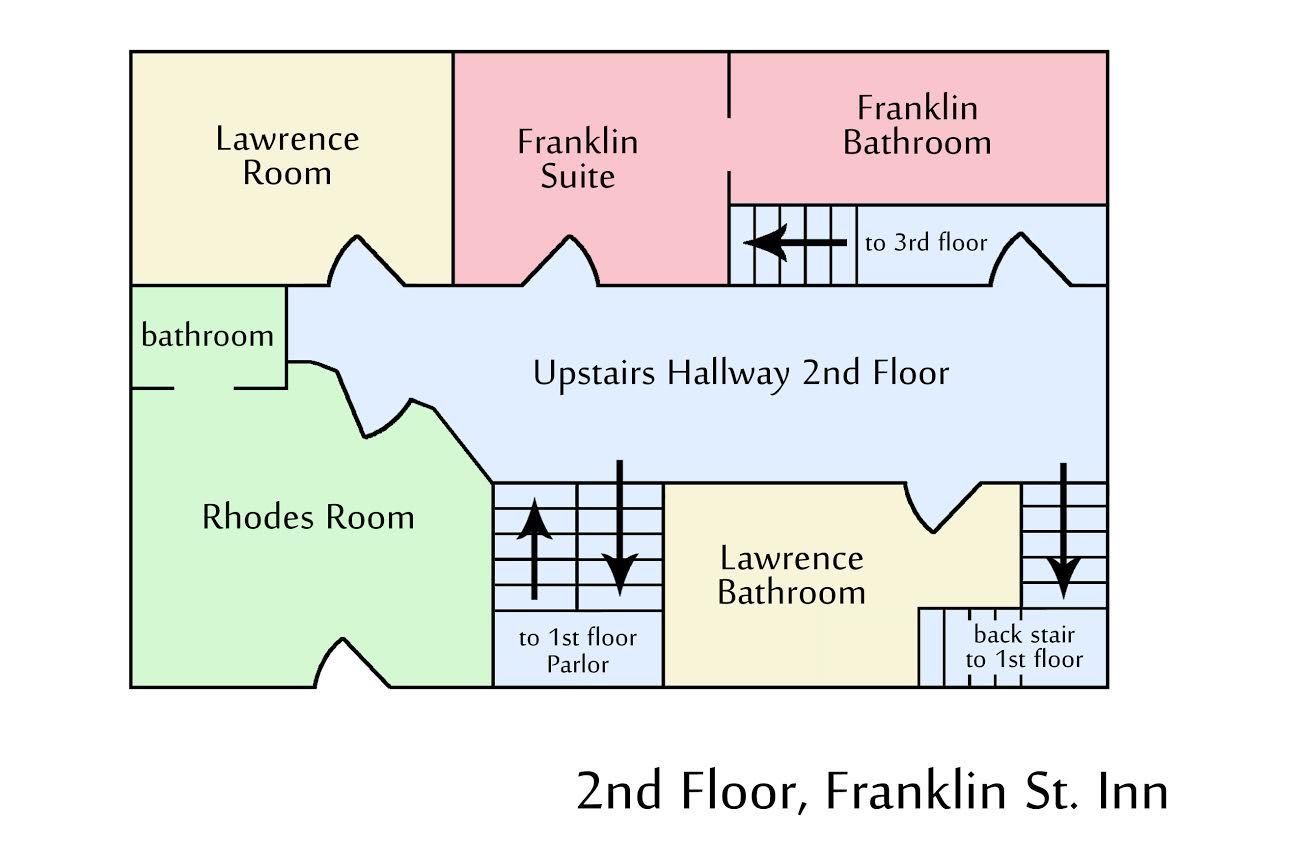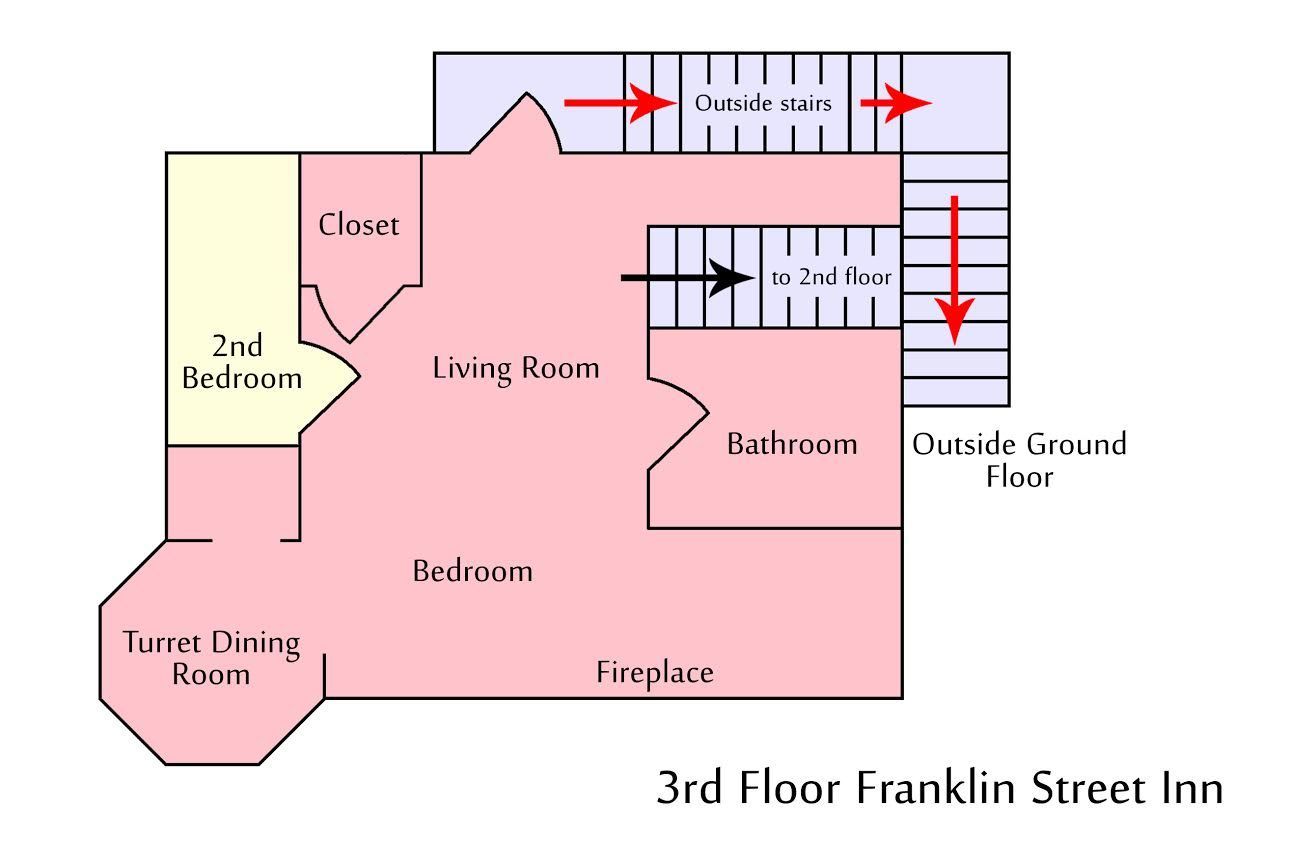 Gift Shop
Franklin Street Inn Signature Coffee Mugs- $16.00 ea. or 2 for $30
Enjoy your morning brew in a hand-thrown stoneware Franklin Street Inn logo mug in a choice of 2 different colors (hunter green or burgundy). Designed by Deneen Pottery, Minnesota.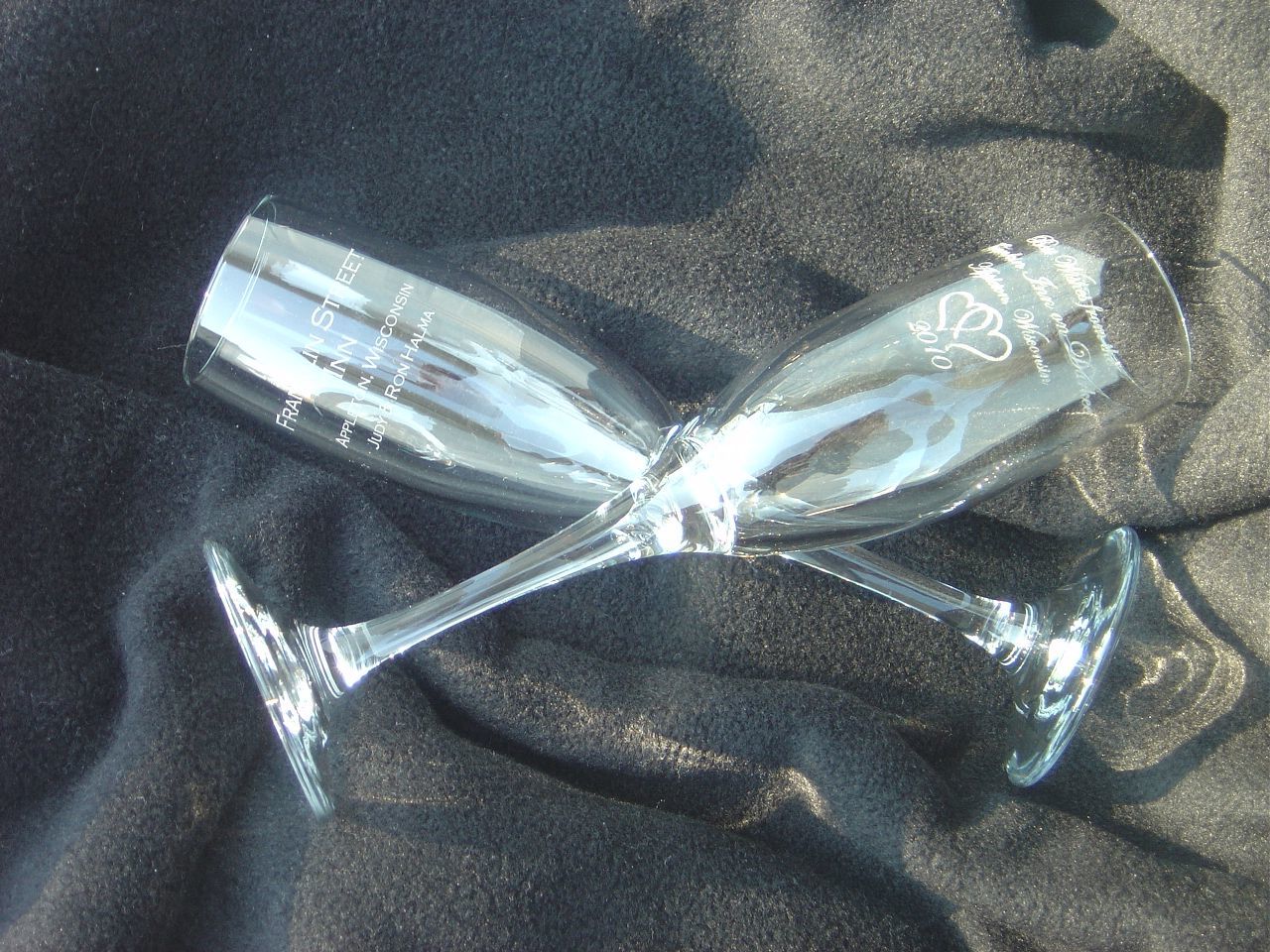 Wine Glasses- $10.00
Celebrate your stay with engraved glasses. A souvenir keepsake to use for many special toasts in years to come.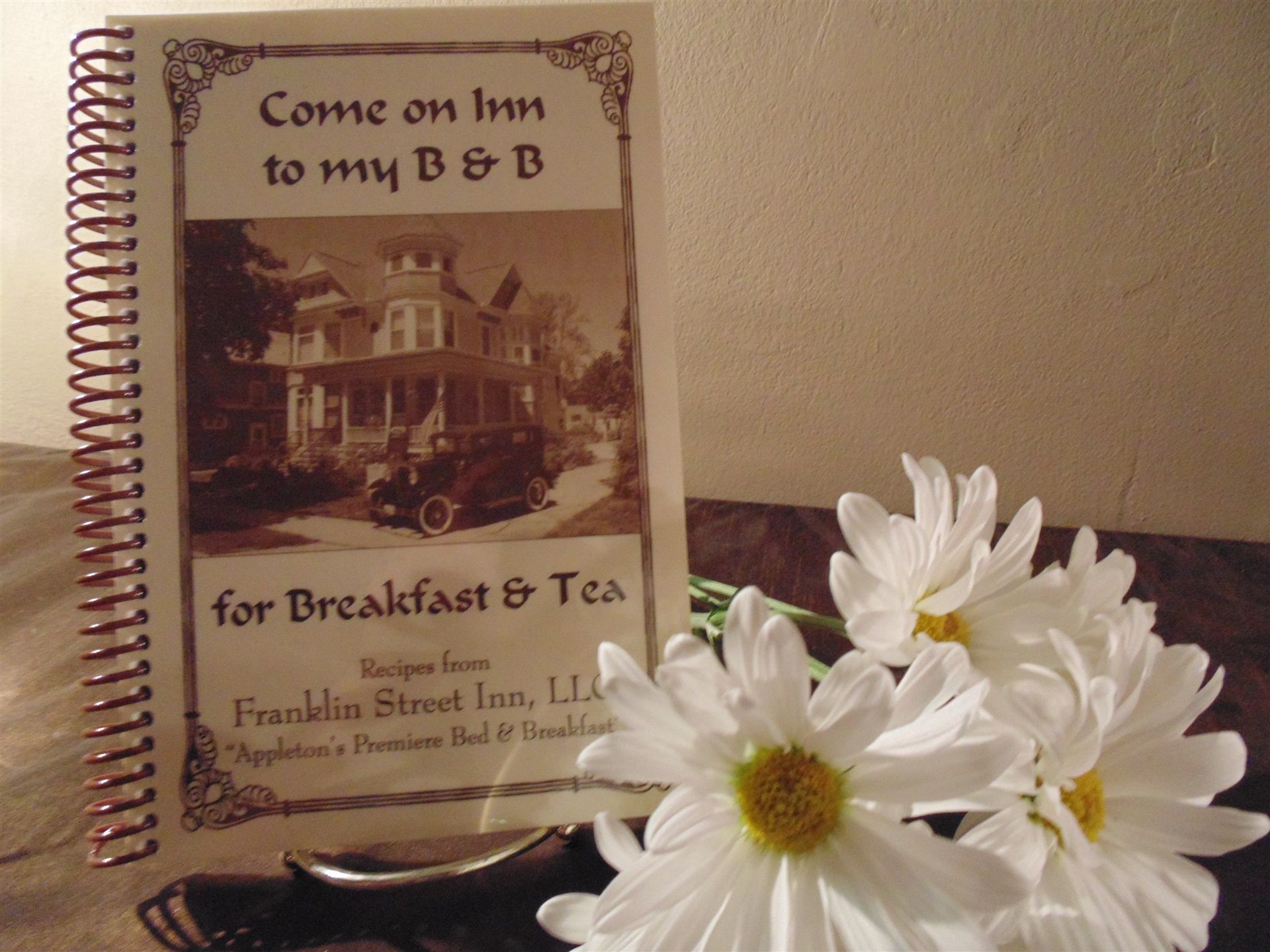 "Come on Inn to my B & B for Breakfast & Tea" - $18.00
Cookbook Collection of the guest's most requested favorite recipes, helpful hints & words of wisdom. This cookbook is Judy Halma's first cookbook featuring the Franklin Street Inn on the cover.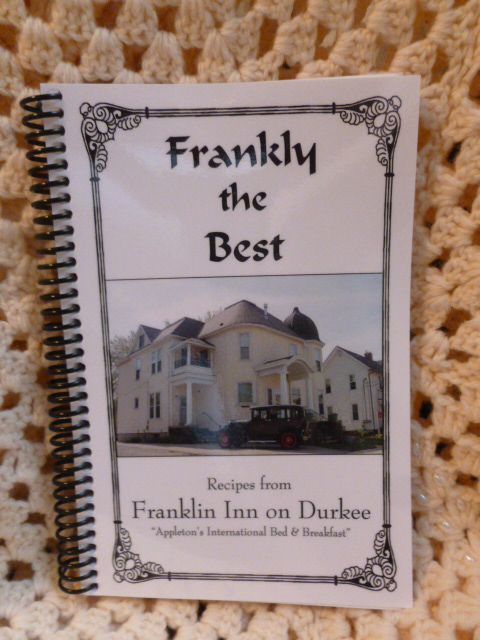 "Frankly the Best"- $18.00
Cookbook Collection of the guest's most requested favorite recipes, colored inn photos, helpful hints & words of wisdom. Judy's book, "Hospitality Inn-Style" is also part of this volume.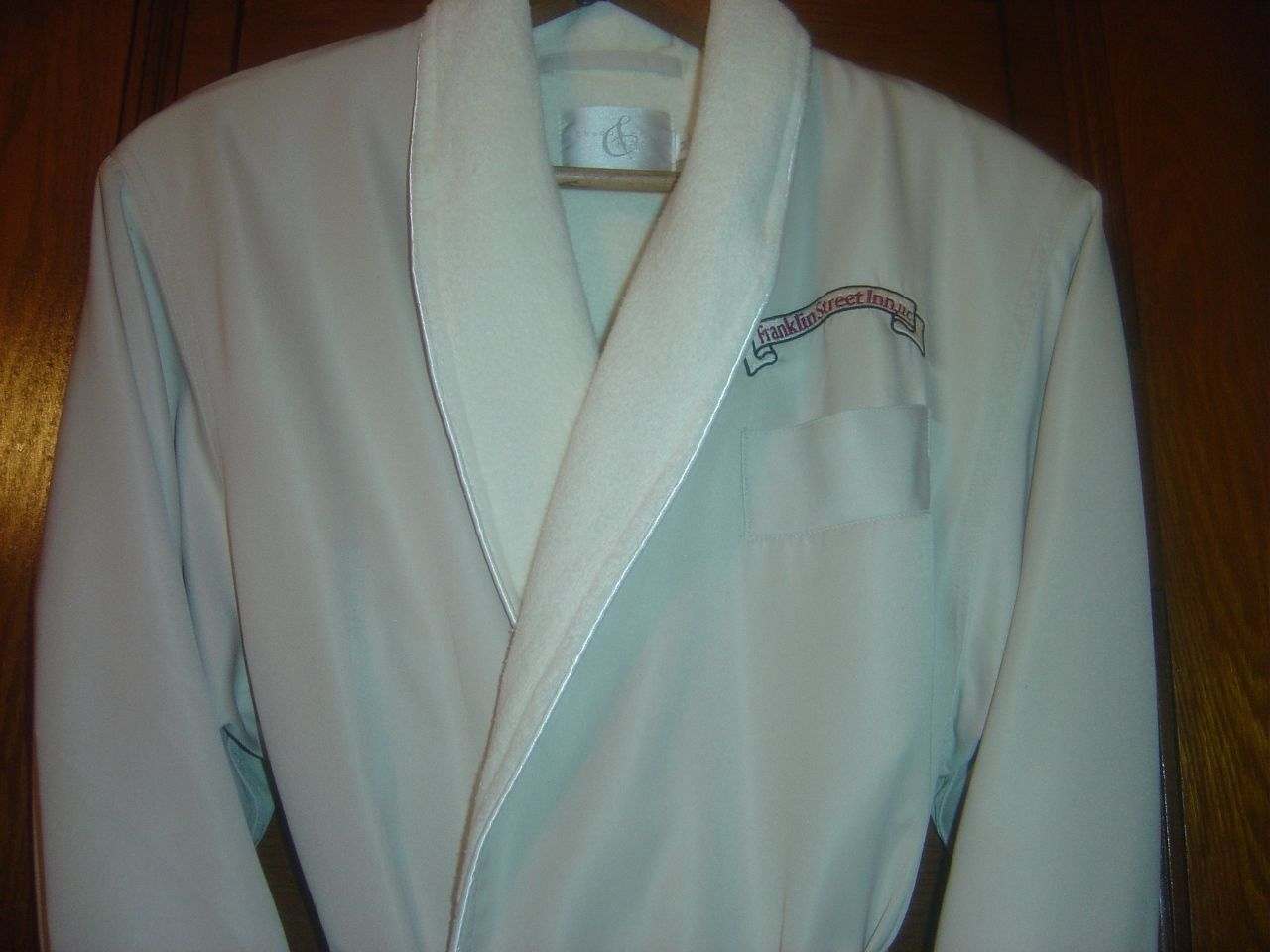 Franklin Street Inn Robe- $60.00
Our signature micro-fiber robes with beautifully embroidered logo and soft terry cloth lining can be yours to enjoy in your home. Sizes M-XXL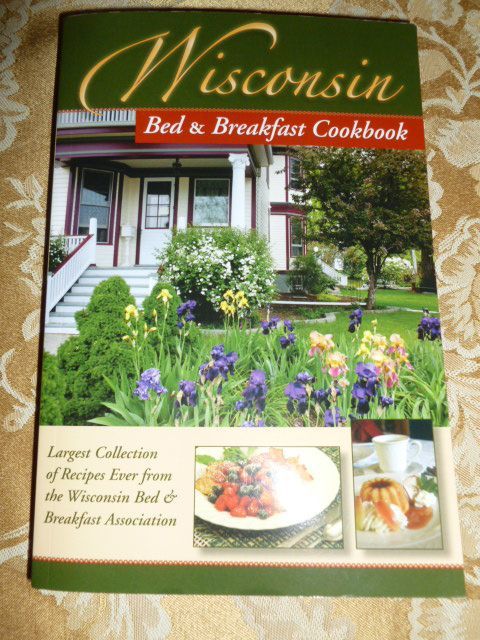 Wisconsin Bed & Breakfast Cookbook- $18.00
Most Requested Recipes from Wisconsin's Unique B & Bs and Country Inns.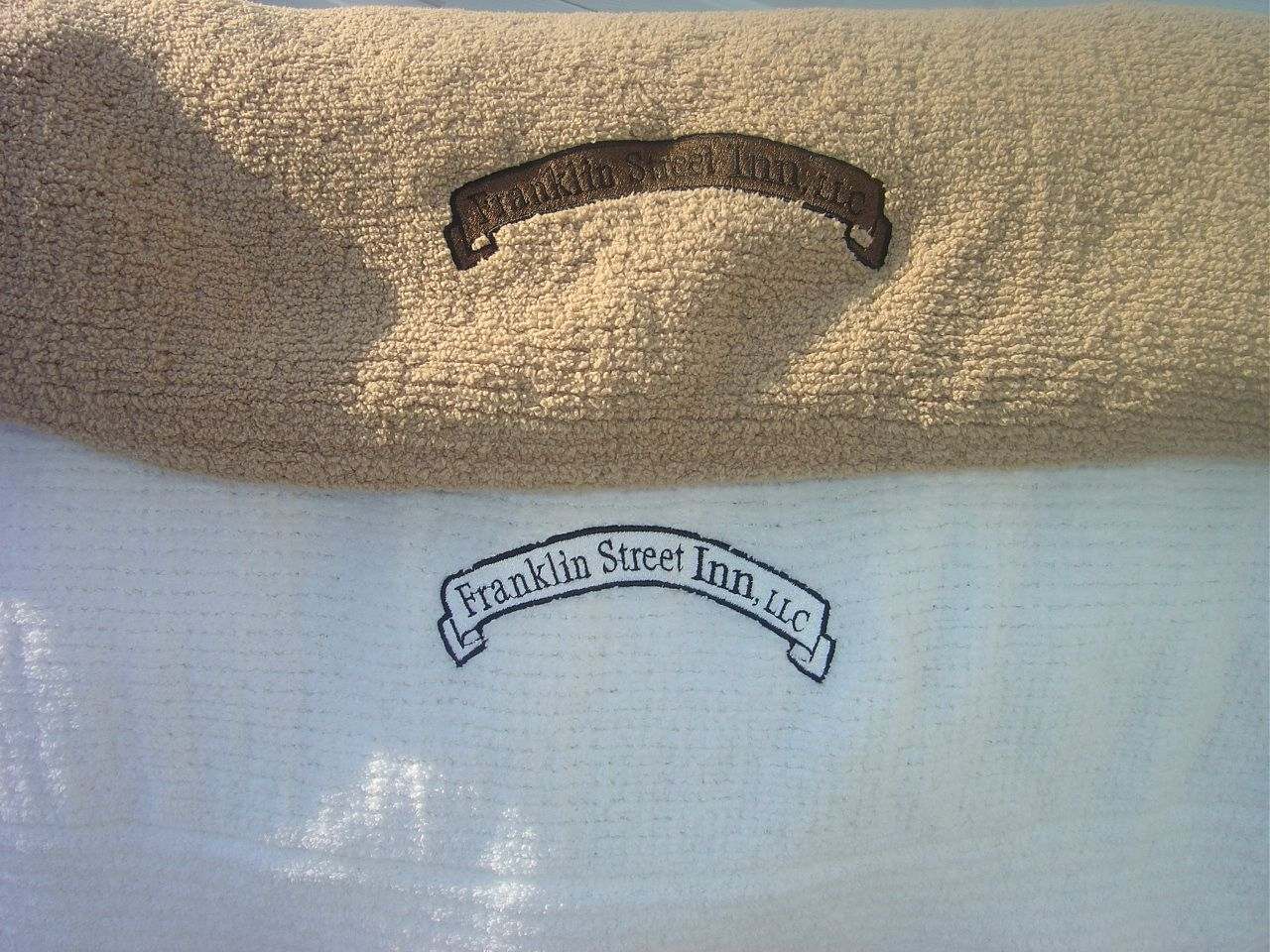 Franklin Street Inn Afghan- $125.00
Our signature beautifully embroidered logo plush afghan.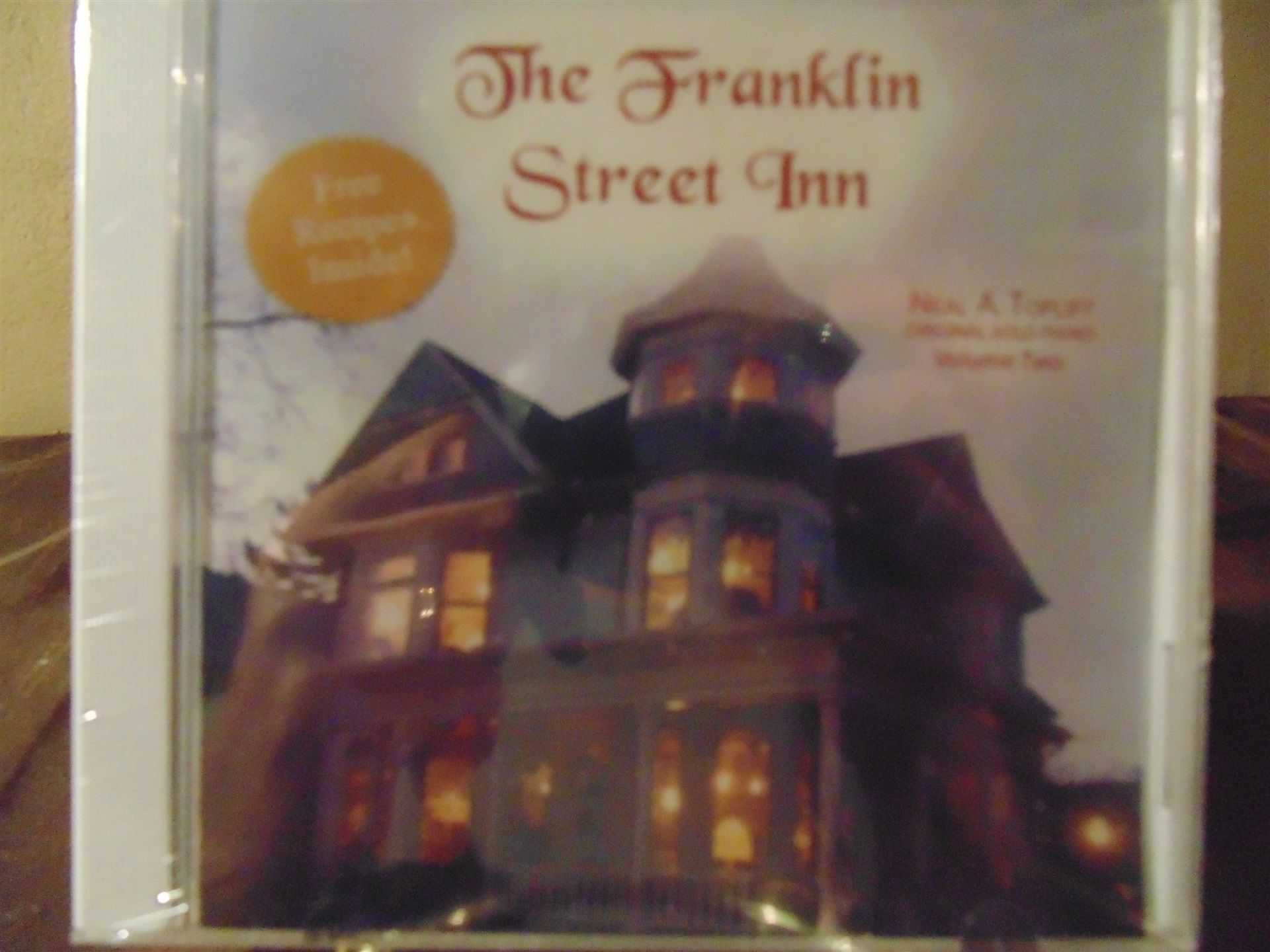 Franklin Inn Street CD - $15.00 each
Soothing piano music by Neal A. Topliff, a mid-west pianist & composer. Each includes recipes and inn photo. This relaxing mood-setting music captures the essence of a romantic B & B getaway.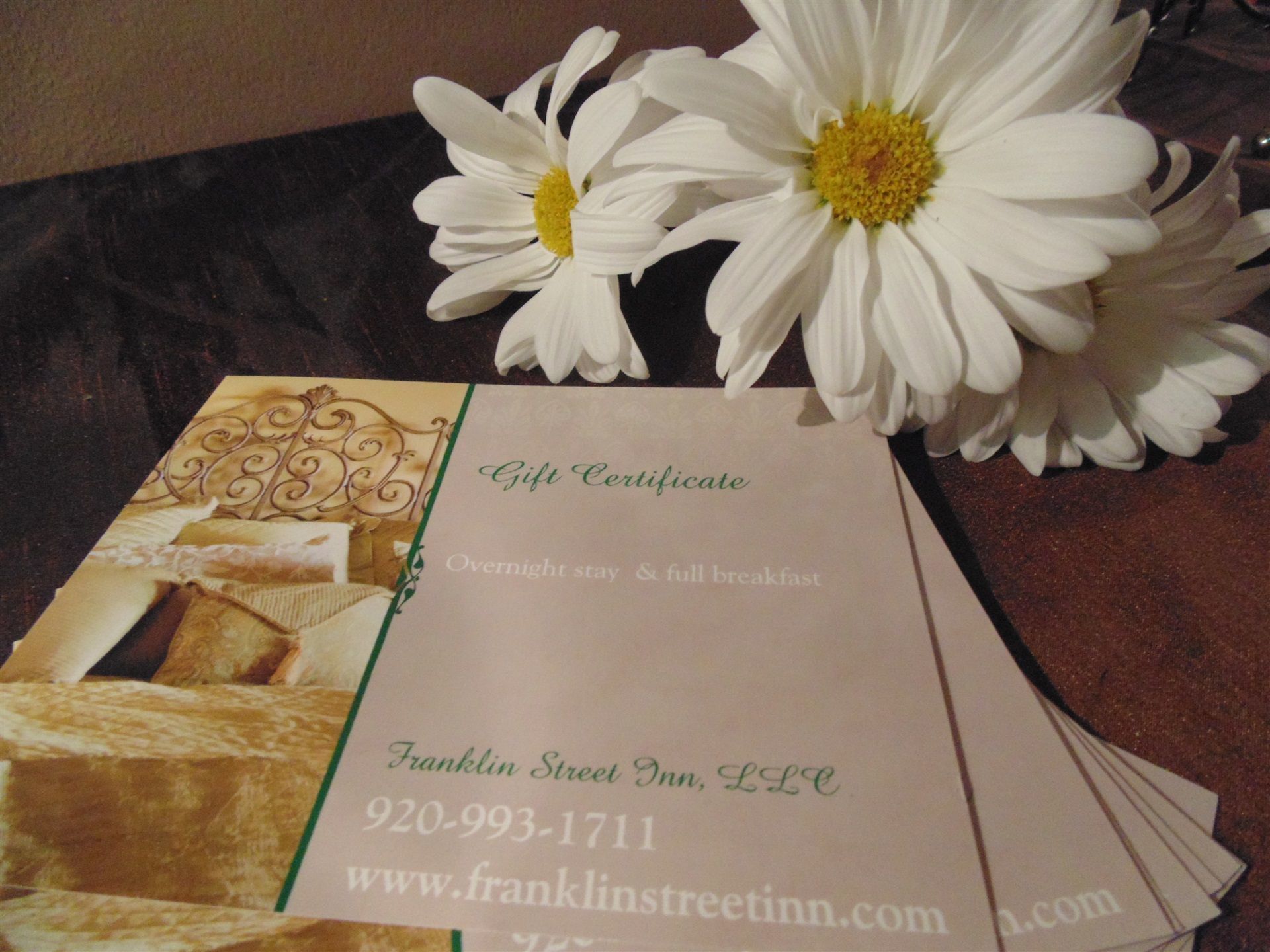 Gift Certificates
Franklin Street Inn gift certificates are perfect for someone who needs pampering, enjoys fine entrees for their breakfast experience, and wants lodging with ambiance. The inn experience is a unique gift to help someone celebrate or just getaway. Order a gift certificate over the phone and we'll do the mailing. If you wish to tour the inn before you purchase the gift certificate, please call and stop in. A stay at our inn is a gift that will long be remembered not only for the experience at the inn, but for your caring thoughtfulness as the giver. Let us help you with that perfect gift. The bed and breakfast memories will mark your gift as top notch!