Valentine, Take Me Away To The Franklin Inns
Free 4 U Package
You will enjoy a complimentary value of $50-170, when you take advantage of this package which is only available from February 1 - March 12, 2016. Your appealing package prepared especially for you is available with: any whirlpool fireplace suite, romantic extras like whirlpool aromatherapy and plush bathrobes to use, fresh flowers, chocolates, wine or champagne for your Valentine toast, chocolate bedtime dessert, and complimentary room service for your candlelight full home-cooked breakfast.
Two night stay guests also receive a pair of signature engraved logo goblets and complimentary early check-in and late check-out. Go to our Rooms tab or http://www.franklinstreetinn.com/rooms to discover where "Contemporary Luxury Meets Vintage Charm" and select your favorite suite or call 920-209-9711 to reserve now. Subject to availability. Package must be requested when reserving. Not valid with other promos.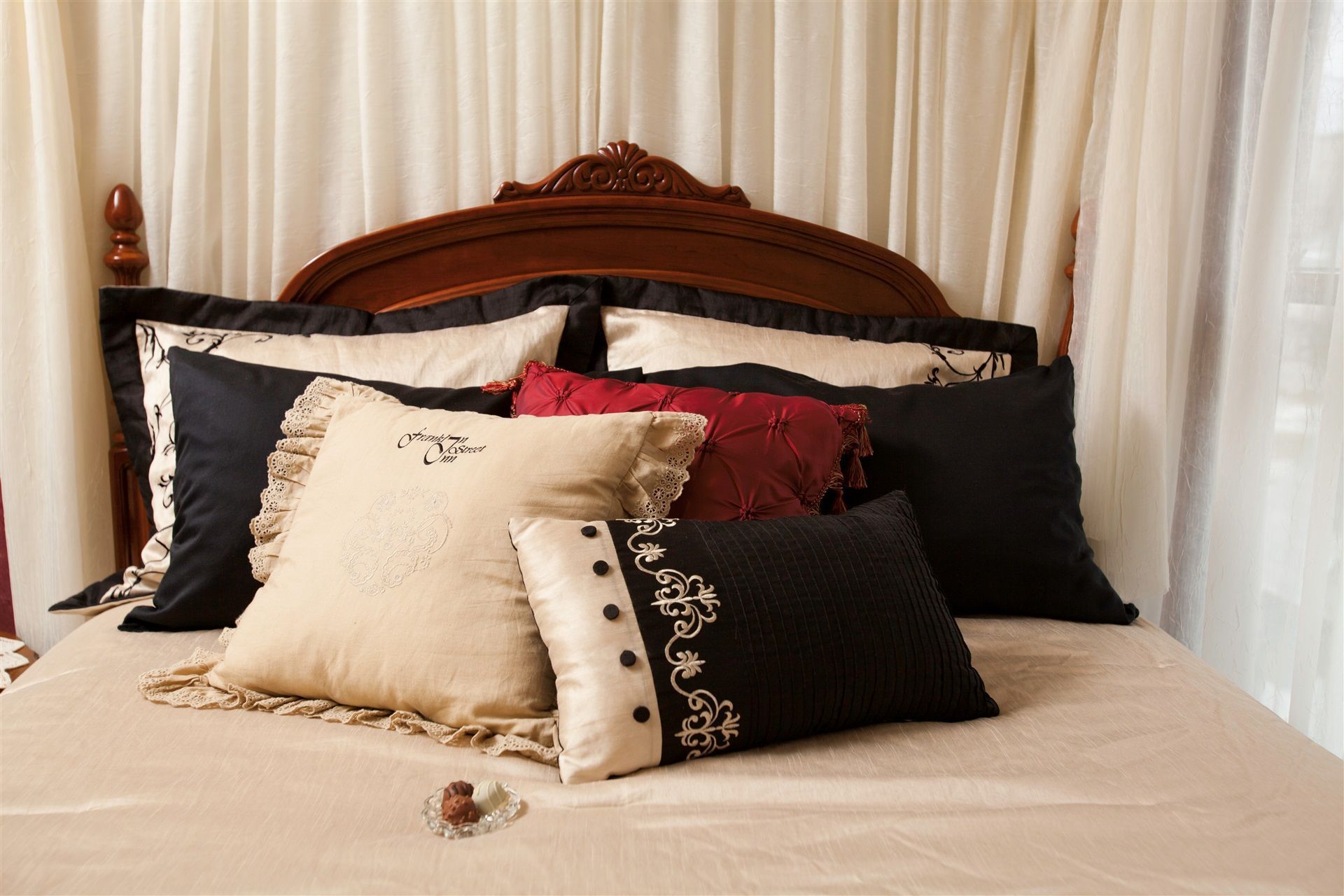 Offer details
A Memorable Valentine's Gift To Treasure
Our inns are just the type of romantic getaway that you are searching for. We only have four suites that have been carefully appointed with attention to detail. Wait no longer. Give us a call and check out our availability: 920-209-9711 or use the on-line reservation system on this page by clicking on the Reservations box.
Just Because Package
Couples fill their lives with the beauty and warmth of romance by finding new and exciting ways to keep the fires glowing. Play Fan the Flames, An Enchanted Evening or Romantic Sensations games during your stay and take it home with you! We think that a romantic game can be that "peak" experience to remind you of why you fell in love with each other. Make a toast while anticipating your future relationship together.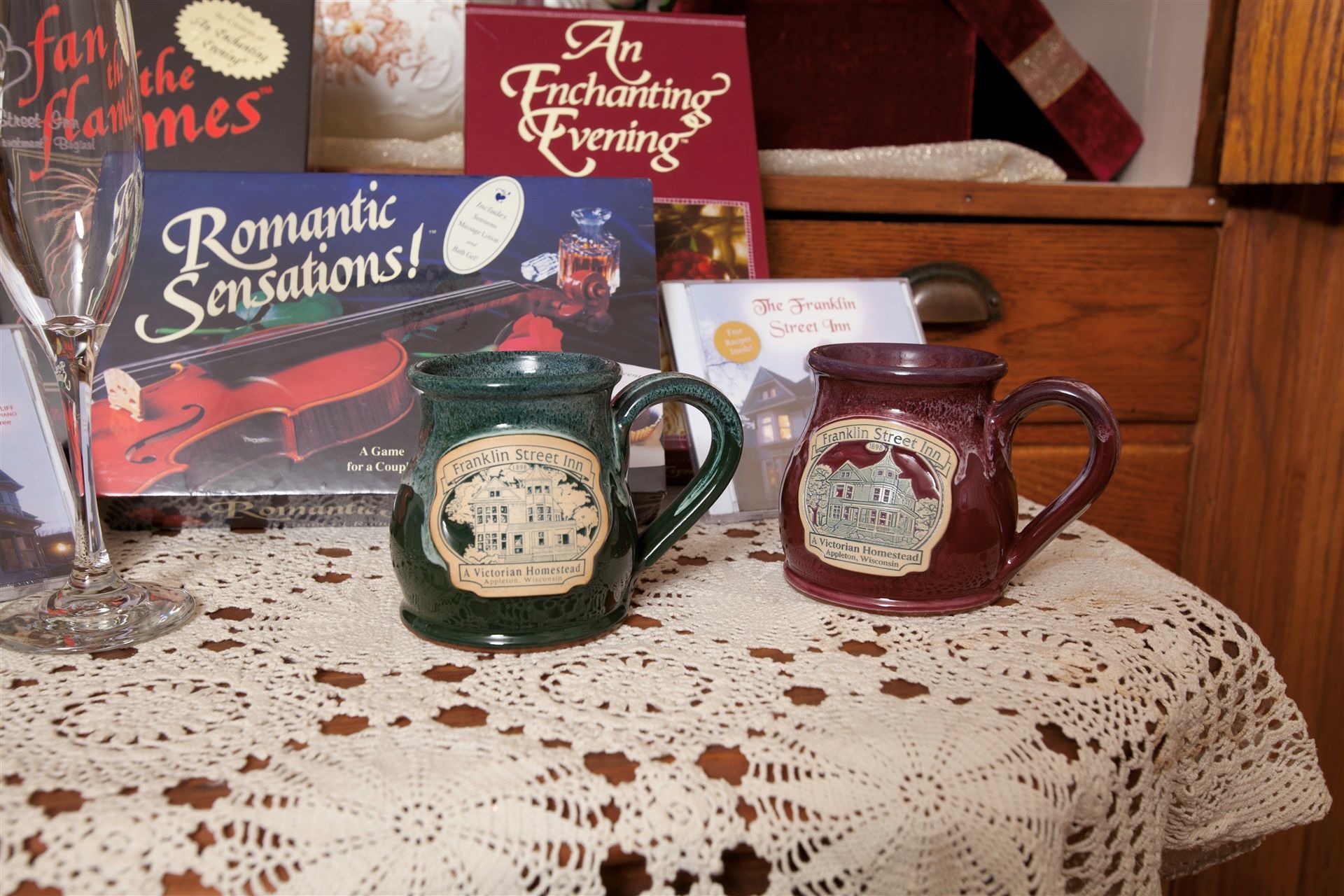 Offer details
Choose between a complimentary bottle of wine or a sparking beverage. Enjoy a one pound box of chocolate turtles for that chocolate, caramel & pecan combination that won our local Wilmar chocolates a Wisconsin State Fair award! *Option: substitute another chocolate variety of equal value.
For $57 (not included in the rate for your choice of room/suite)
Anniversary or Birthday Chocolate Package
Doesn't chocolate spell L-O-V-E in every language?
Your words of love will be oh so sweet when you surprise your partner with a 1 lb. box of local Wilmar's Chocolates from the Wisconsin State Fair Award Collection. These confections made from wholesome Wisconsin ingredients-truffles, butter toffee, caramels, Wilmarvels-each piece drenched in a semi-sweet or milk chocolate shell. Make your bath/shower experience even more luxurious with our triple-milled chocolate moisturizing soap. This soap will soften your skin, please your nose, and maybe even satisfy a craving. What a way to refesh! Take home the Franklin Street Inn cookbook which is a collection of 250 guest recipe favorites. Yes, there are chocolate recipes for any time of day for you to look forward to.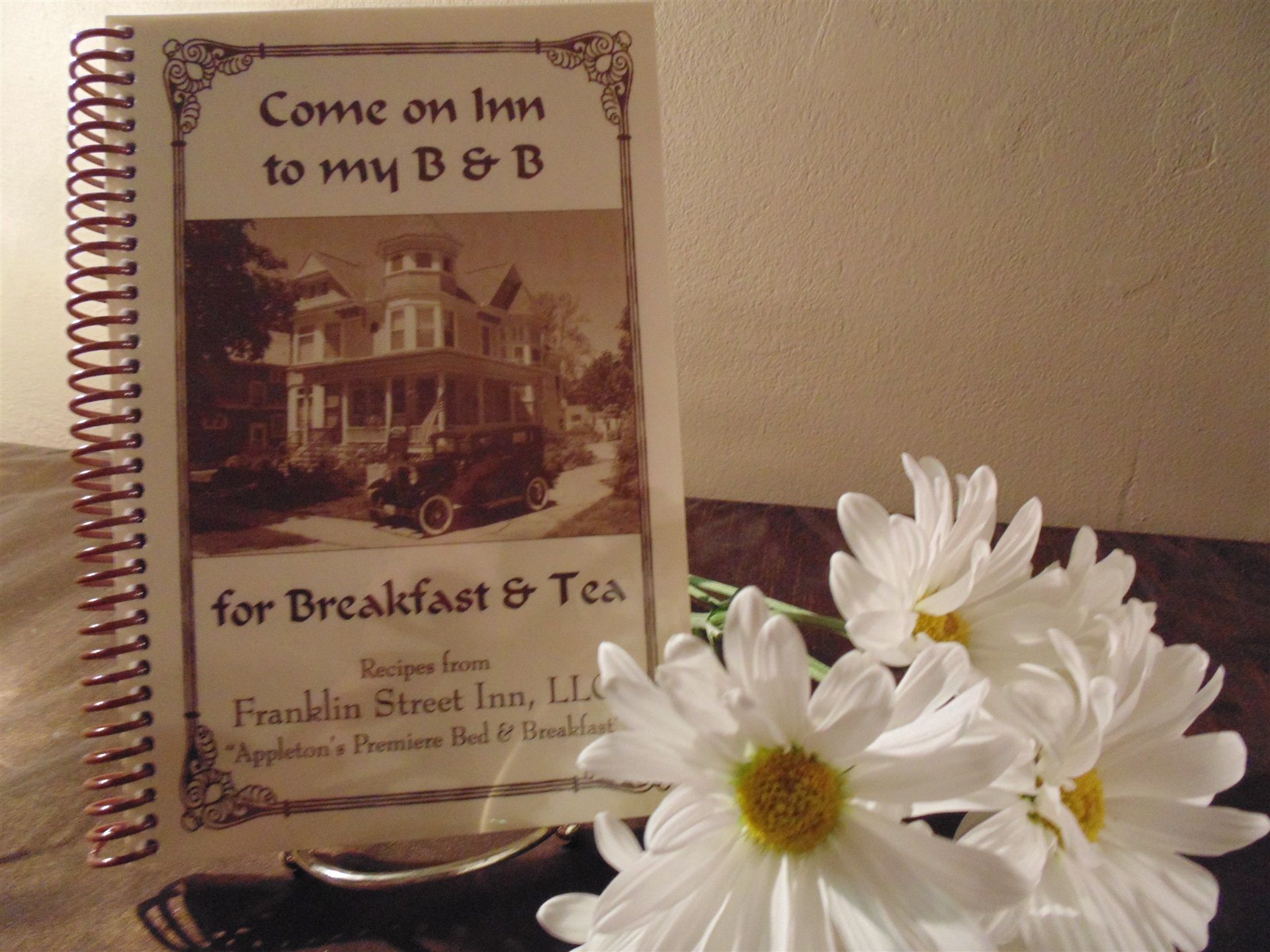 Offer details
Add-on extras:
Chocolate Recipe Deck $14.95
Chocolate Smarts Game $16.95,
Chocolate-opoly Game $26.
For $57 (not included in the rate for your choice of room/suite)
Pride of the Valley Royal Treatment & Entertainment
We will help you make lasting memories! When the queen enters the Turret Royale Suite for a one night stay, she will be honored to receive a custom vase of a dozen roses. Relax in your two thrones beside the fireplace. Make this a "King & Queen of Everything Time" with two one hour on-site couple massages to help you unwind and relax! A romantic candlelight dinner for royalty awaits because we will make the reservation for you at one of our guest's favorite restaurant and include a $50 gift card for your dining tonight.
*Entertainment varies in the Fox Valley with many popular and exciting attractions offered. Depending on when you want to celebrate, you should find a wide variety to choose from: Fox Cities Performing Arts Center, University of Wisconsin Theater, Trout Museum of Art, Lawrence University Theater and Music Dept. concerts. Prices vary so your entertainment choice is not included in this package. We will help you with any planning here upon your request.
The whirlpool bath with aromatherapy is waiting for the king and queen. Chilled complimentary champagne or wine will be at your bedside with turn down service provided. Your two etched Franklin Street Inn flutes or goblets are your souvenir keepsakes. Rose petals are scattered to enhance the romance on your bed. Soft music plays on the in-room CD player. Hark does the queen crave a chocolate turtle? Well and of course, a one pound box from our local Wilmar Chocolate store will be in the suite waiting for your highness.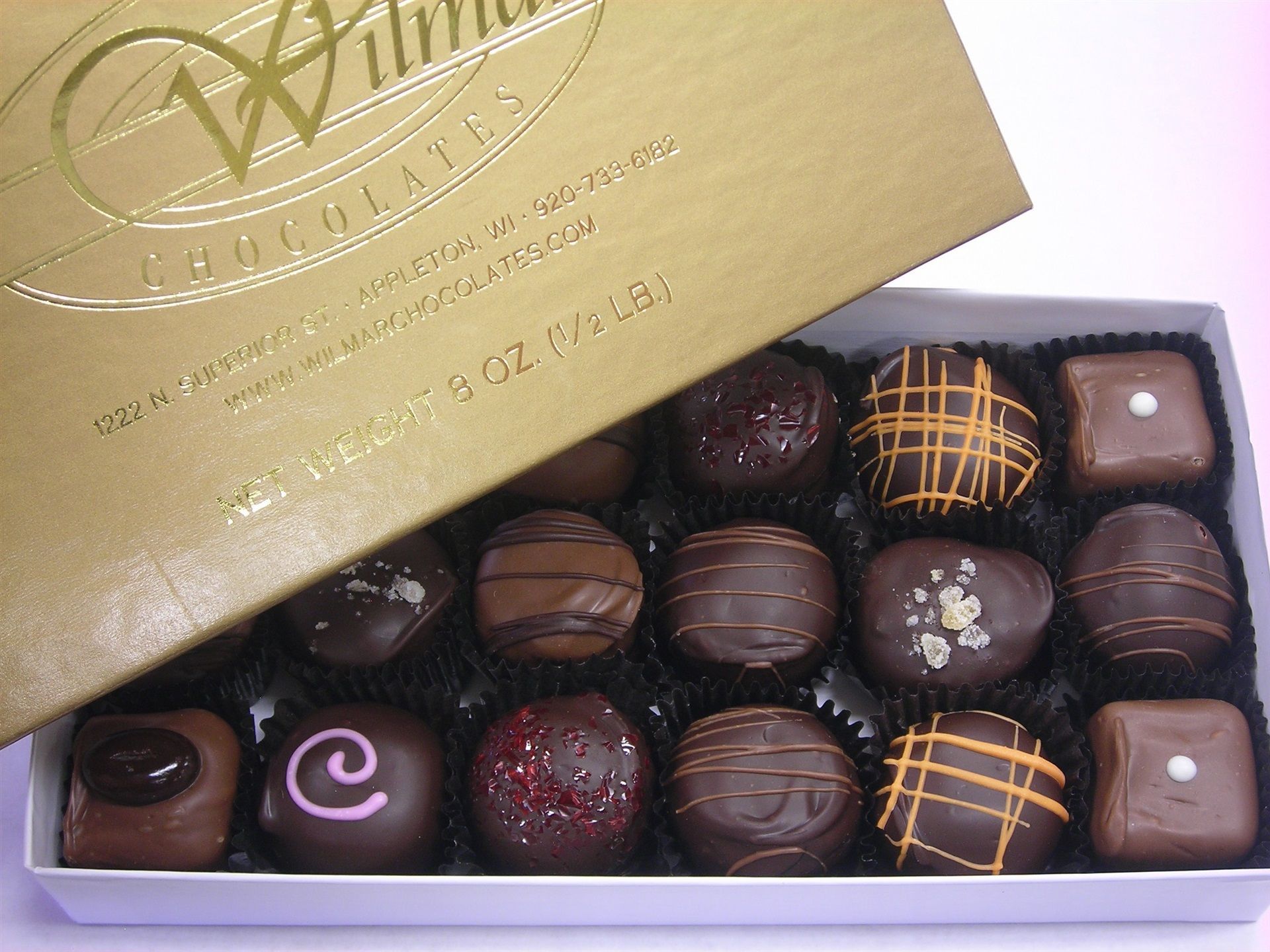 Offer Details
When your complimentary room service arrives, you'll feel like a million dollars eating your gourmet breakfast in the tower of the castle.
Add-on: Ask about our King & Queen for the Day Limo Package option, late check-out, and second night stay discount offer.
All Inclusive for $550 (except add-ons listed above)
So Sweet Suite, Spa & Say it with Flowers
Pamper yourself with one relaxing on-site 60 minute massage and then enjoy your whirlpool bath. Advance requests for a massage will allow you to book your most convenient time. Let us place a long stem rose in 4 different colors in an attractive vase arrangement in your suite: white, yellow, pink, & peach. Each rose will have a different love note symbolized by that color for you to read to your lover. When we deliver your complimentary room service full home-cooked breakfast, your fifth red rose will be on the tray with a final romantic message. Your candlelight breakfast includes two etched souvenir champagne flutes with complimentary champagne or an option to make your own mimosas. You are welcome to personalize these messages in advance as we work to plan your very romantic stay.
Offer Details
Option: 30 or 90 minute massages or adding a second massage changes the pricing of this package.
For $117 (not included in the rate for your choice of room/suite)
Forget Me Not Package
Because you need a getaway, let us help you with plans for a special time together! Focus on just the two of you during your stay. It is your time to refresh your lives with the beauty and warmth of romance. Make plans for exciting and memorable experiences, at our inn, which will help you keep the fires glowing when you leave.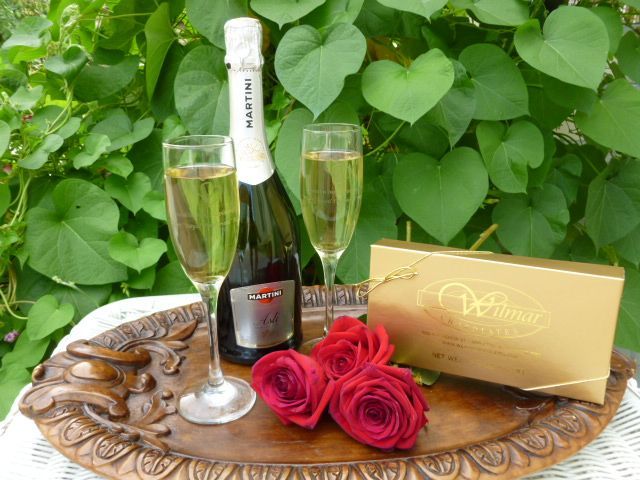 Offer Details
Our gift to you is a bottle of complimentary wine or champagne along with your order for Romantic Memories Gift Basket, which includes:
Romantic Sensations Game
Two etched champagne flutes or goblets (minimum 5 days notice)
Vase with one red rose
Love, Laughter & Romance Book
Souvenir Inn Keepsake CD
For $87 (not included in the rate for your choice of room/suite)
Victorian Roses & Romance Deluxe Package
A day without romance is like a day without sunshine! Enjoy a single horse-drawn carriage ride: Rates start at $225 for 2 hours within Fox Cities. (Two couples can ride along with the driver. Must be booked in advanced for best availability.) A romantic carriage ride will give your relationship an air of mystery...a new experience...a unique surprise to start your romantic evening together. Keep the romantic mood going back in your suite with a souvenir inn keepsake CD for $15. When you take it home, then you can relive memories of your stay. Our gift to you is complimentary wine or champagne to toast your relationship. Relax and enjoy your whirlpool bath to end this memorable day. Look forward to your complimentary room service full home-cooked breakfast.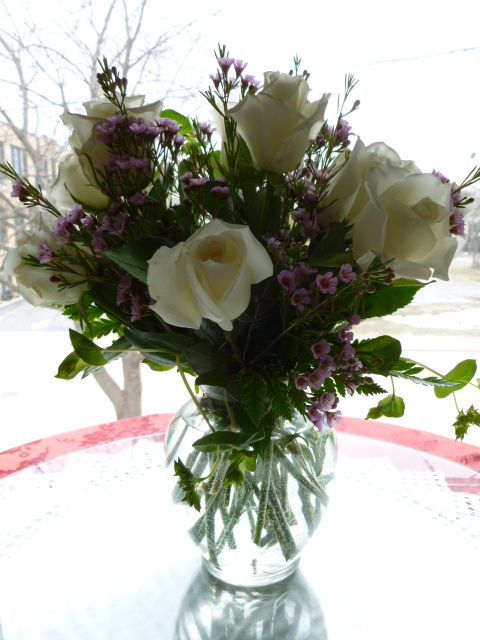 Offer Details
Add-on options:
On-site massage...couple's one hour massages $150, solo $65 each.
Franklin Street Inn Remembrance Basket/7 items for $97 or add more items for additional cost.
Roses, one dozen basic arrangement, $25 or $50 for a customized arrangement.
Chocolates, ½ lb. $15 or 1 lb...$25.
Fan the Flames, An Enchanting Evening or Romantic Sensations Game...$26 each.
Late check-out until 1:00...$25.
Base rate at $225 with extra add-ons
(not included in the rate for your choice of room/suite)
Franklin Street Inn Remembrance Package
Inn logo mugs, etched goblets, wine/champagne logo ceramic chiller, mini-crock with inn logo, inn logo coasters, Souvenir Inn Keepsake CD with two breakfast signature recipes (listen to during your stay & take it home for stay memories), guest favorite inn glycerin soaps, a collection of inn or Fox Cities attractions photo note cards, & the Franklin Street Inn cookbook of 250 favorite guest recipes.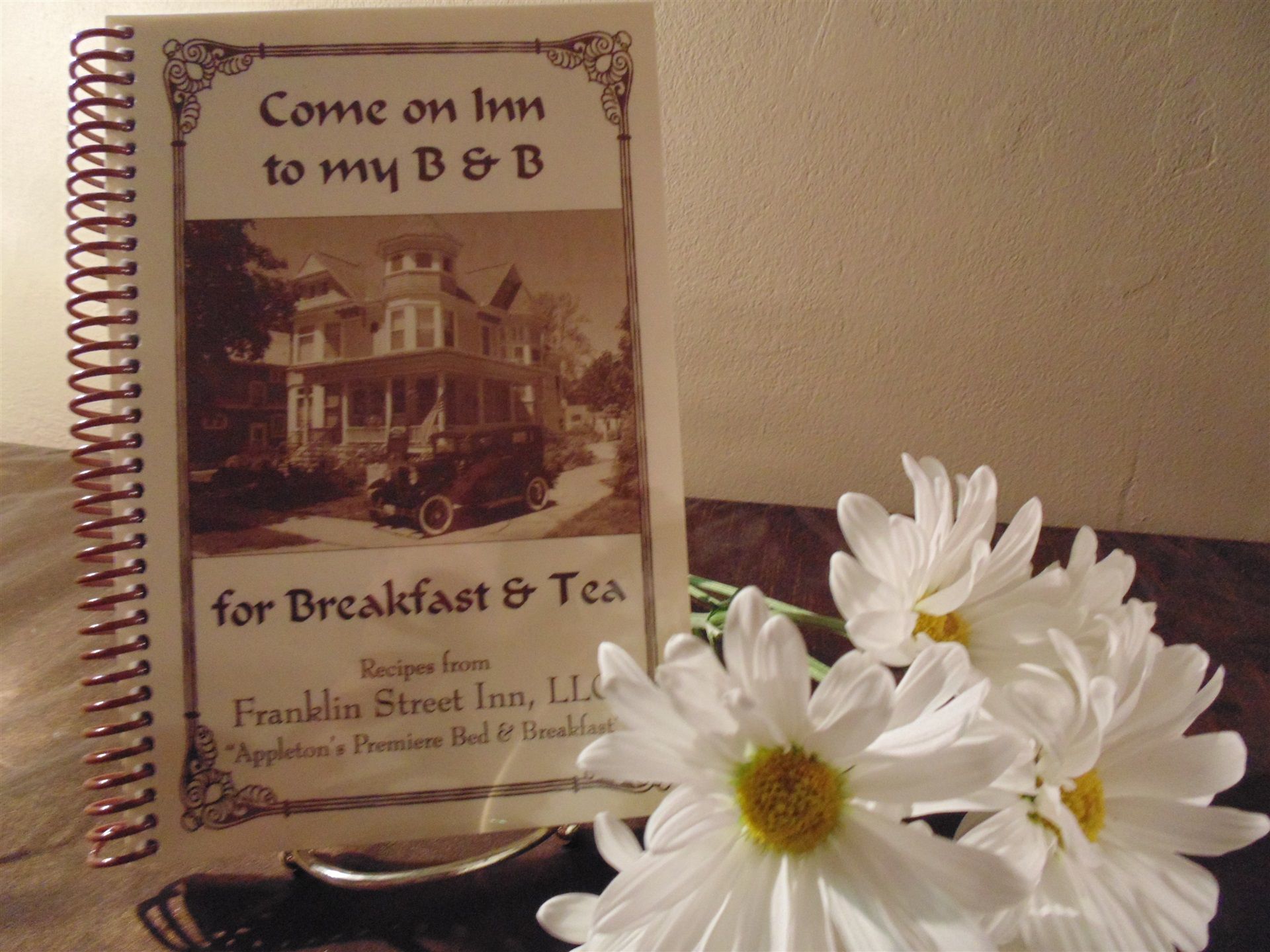 Offer Details
Select your favorites from the choices below and the maximum cost for your basket. We will prepare an attractive gift for any guest.
It's That Babymoon Feeling Package
So it won't be long and you will be holding a sweet little bundle of joy! Life will change dramatically soon, as you plan around one more person in your family. Now is your time. So let us help you focus on the two of you for a babymoon getaway at our inn!
What do you expect from the perfect romantic babymoon location? View our Franklin Grand Suite or our Turret Royale Suite. Which suite will make you feel pampered and relaxed so you satisfy just what you are craving for?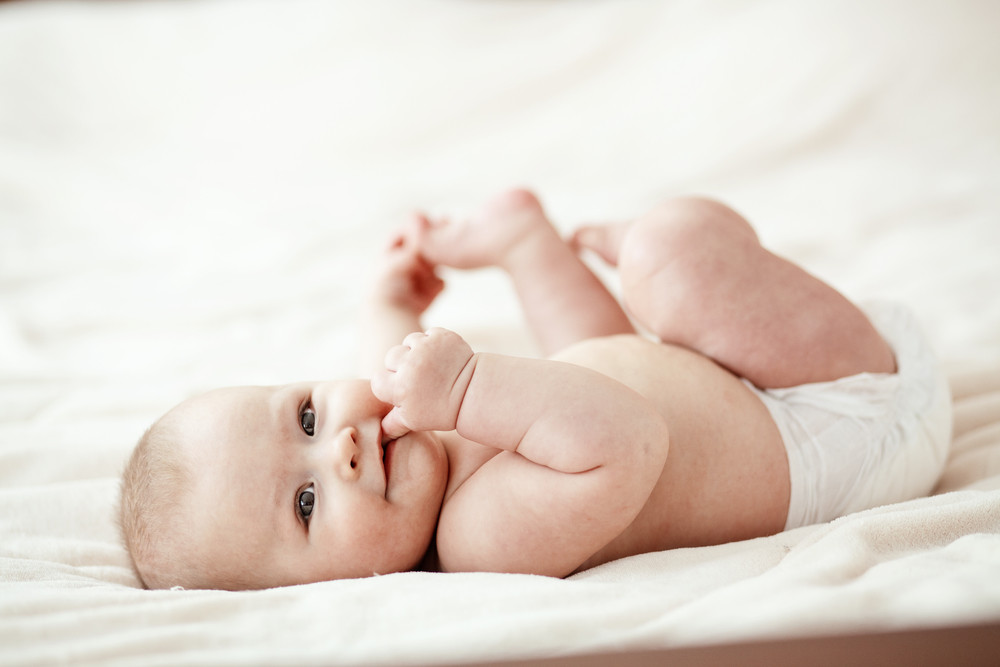 Offer Details
Reserve a date way before your due date.
Do you have expectations that the suite have a whirlpool, fireplace, complimentary room service for a full home-cooked delicious breakfast? We will deliver!
Give the inn keeper a clue what you may be craving for, because you can expect her to prepare a delicious bedtime dessert for your treat!
Did you know that we have on-site massages? Definitely expect mom to know that this is just what the Dr. ordered! Ok dad, you even need to relax with a massage today, too! We will make your two one hour massage appointments for you.
Expect complimentary drinks from the mother-to-be craving list to be available.
Expect us to deliver the best of the Fox Valley because a ½ lb. box of Wilmar assorted chocolates will be there to tempt both mom & dad!
For $157 (not included in the rate for your choice of room/suite)
Not 2 Good 4 U Package
Treat yourself to some quality catch up time for a group of four girlfriends at the Franklin Street Inn in the luxurious Turret Royale Suite or Sea Breeze Suite at the Franklin Inn on Durkee. This suite includes sleeping for 7 gals (see add-on rate), whirlpool/ bath, TV sofa area, fireplace, and dinette. Appleton is the perfect destination for reconnecting for a fun-filled time. We are offering complimentary early check-in for your group. Let us help you start an annual tradition of a b & b slumber party like the "good ole'days" with a PJ style show, giggles, early afternoon welcome tea party, and a before dinner reception featuring wine from our local Kerrigan winery, assorted cheeses, crackers, and fresh fruit. We have numerous ethnic restaurants in the area for dinner. Award winning Authentic Mexican cuisine is available only 3 blocks away.
Popcorn & soda for your late night snack will get the good times rolling with a "chick flick" DVD. You will find chocolates on your pillow when you decide to head to bed. Awake to the aroma of our freshly ground coffee waiting for you and enjoy eating full home-cooked gourmet breakfast in our plush robes.
For the next day, a downtown shopping guide map is provided so you won't miss any of our downtown stores. The Fox River Mall is only a short drive away in case you want to shop till you drop. Ask for our second night discount rate to keep the good times rolling: shopping, manicures, pedicures, massages, scrap booking, rubber stamping, and visiting any attractions.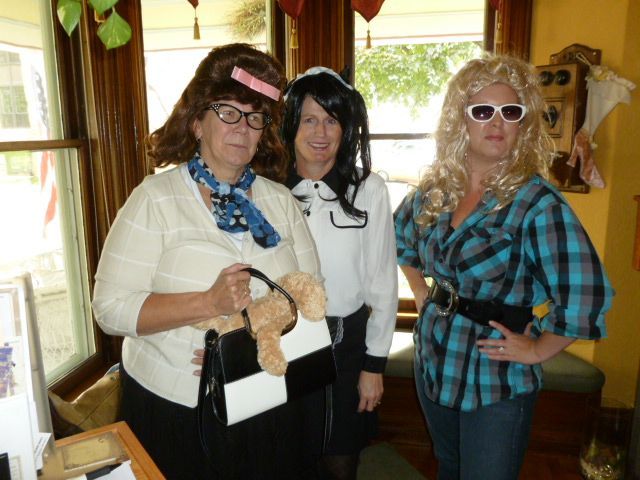 Offer Details
It's Time To Play ~ Great Girlfriends....Great Time Getaway.
For four girlfriends or more option
For one night stay all-inclusive at $357 (add on extra $)
Restaurant bills are not included.
Add-on: $35 per extra guest
Add a Murder mystery party for 7 for $300.
On-site massages and pedicures/manicures appointments are available, but not included in the rate.