Our Breakfast
Do you want to come on over so you can?
Imagine the wonderful aroma of home-cooked food drifting up to your bedroom?
Imagine thinking while you eat, "I didn't know that food could taste so great?"
Life at our inn is oh so comforting because you can:
Sit a spell, linger at our dining room table with warm conversation.
Discover life at its best & enjoy my breakfast cooking from scratch.
Let time stand still & reflect on the elegance of the 19th century in our formal dining room.
Can I share two secrets with you on your next visit?
Ask me for my secret spice?
Ask me why my food is so heavenly?
The inn has a very small kitchen but the size of the room makes no difference on the quality of the food for our guests.
What does make the difference, is my huge passion to share the best in what a seasonal breakfast could be.

During our dining experience, you may...
Eat family style in our formal dining room or in the privacy of your suite.
Socialize with others around the breakfast table because that is what many guests look forward to at our inn.
Hopefully be added to our growing testimony list soon?
Le Chef Judy
Comes from a long line of kitchen magicians; grandmother, mother, & myself, all with the love of cooking and baking.

But above all we offer hospitality and food to guests in our home so that memories can be made.
Recipes
I have solved my quest for the most moist, but also bursting with flavor scone! Enjoy!
Ingredients:
2 c. flour
3 Tbs. sugar
3 tsp. baking powder
2 tsp. grated orange peel
½ tsp. salt
½ c. dried chopped apricots
½ c. white vanilla chips
1 1/3 c. whipping cream
What is for breakfast tomorrow? Here are a few recipes for a preview sample of what might be cooking in our kitchen during your stay. Of course, these selections are prepared frequently because of their high guest review credits. If you have special dietary needs, please let us know when you make your reservation. We'll do our best to accommodate you.

Apricot-Orange Cream Scones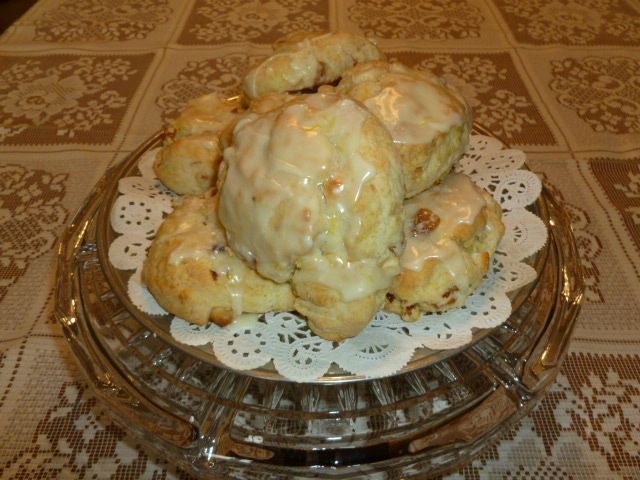 Frosting:
2-3 Tbs. orange juice
Zest from 1 orange
1 c. powdered sugar
Directions:
Heat oven to 400 degrees.
Lightly grease cookie sheet.
In large bowl combine first seven ingredients. Mix well.
Add whipping cream all at once, stir just until dry ingredients are moistened. (If not moist enough, then you can use more cream usually by about ¼ c.)
On a lightly floured surface, knead dough 6-7 times still smooth, do not over mix!
Divide in half and pat into two 6 inch rounds. Cut into 4 wedges. Place rounds 2 inches apart on cookie sheet.
Bake at 400 degrees for 10-13 minutes till golden brown. Cool 5 minutes.
Mix powdered sugar and orange juice, then drizzle over warm scones.
Best served warm. Makes 8 large scones. Kitchen tip: you can combine first seven ingredients and store in air tight bow on the counter. Then in the morning add the cream and follow recipe from there. Grate orange for zest flavor & then juice orange. Combine and refrigerate. In the morning, add powdered sugar to the orange mixture to make frosting.
Signature Egg & Sausage Strata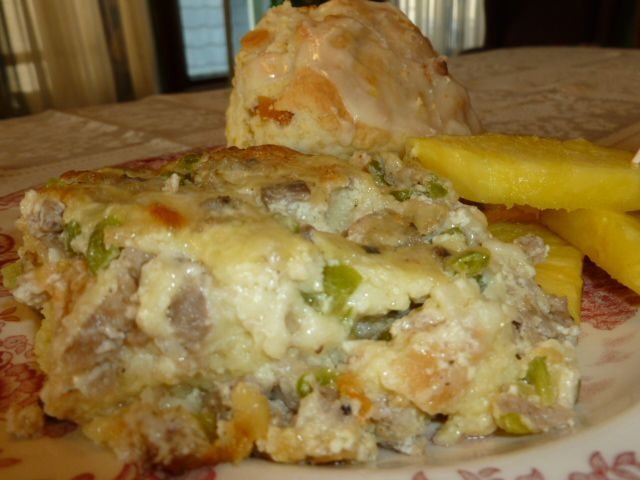 Guests call this comfort food!
Ingredients:
1 lb. bulk pork sausage, select your favorite variety
8 oz. sour cream
6 whole English muffins (sour dough, whole wheat, plain)
1 lb. Monterey Jack cheese, grated
6 eggs
2 ½ c. milk
1 can condensed cream of mushroom soup
1 c. green pepper, finely grated (optional)
Directions:
Brown & drain pork sausage.
Mix soup & sour cream together.
Crumble muffins & line a greased 9" x 13" baking pan.
Mix eggs & milk together in a separate bowl.
Layer in pan ½ sausage, ½ grated cheese, ½ soup mixture on to crumbled muffins. Repeat layers ending with soup mixture, then smooth with spatula.
Pour milk & egg mixture over all (poke with sharp knife to help absorb milk mixture).
Cover & refrigerate overnight. Next day, bake uncovered at 300° for 1 hour.
Rest" on cooling rack for 5 minutes. Cut into squares & serve.
Reheats & freezes well. Serves: 12.

Easy Elegant Pears with Raspberry Sauce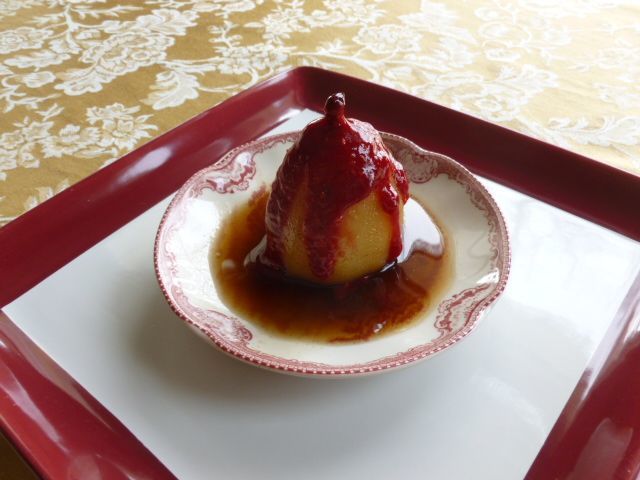 Ingredients:
6 Bosc Pears with stem intact
3 tablespoons white sugar
3 teaspoons cinnamon
¼ cup brown sugar
6 tablespoons maple syrup
1-16 ounce pkg. of frozen raspberries or fresh
Sugar, to taste
Whole raspberries, optional
Mint leaf, optional

Directions:
Peel pears. Slice a piece off each bottom so pears will stand up straight. (Optional: Take a sharp knife and work to remove the core and seeds from the bottom wider area of the pear only. Be careful not to damage the outer form of the pear. Eating goes much easier if this kitchen work is done ahead.)
Place in a microwaveable dish. Spoon 1 tablespoon of maple syrup over each pear. Mix cinnamon, white and brown sugar and sprinkle over each pear.
Cover dish completely with a microwave lid. Microwave on high 10-12 minutes or until pears are tender, but not soft.
Sauce:
Heat berries until soft.
Puree in blender.
Use a sieve with very small enough holes to remove the seeds from the sauce. A canning sieve is recommended.
Add enough sugar to sweeten to taste. Heat on top of stove. Note: You may also buy raspberry sauce already made. Warm this sauce in the microwave first.
To serve: Pour sauce on plate. Stand each pear in the center of sauce. You may garnish each pear with whole fresh raspberries and a mint leaf on the top of the pear.
Serves: 6

Blueberry Oatmeal Streusel Bread Pudding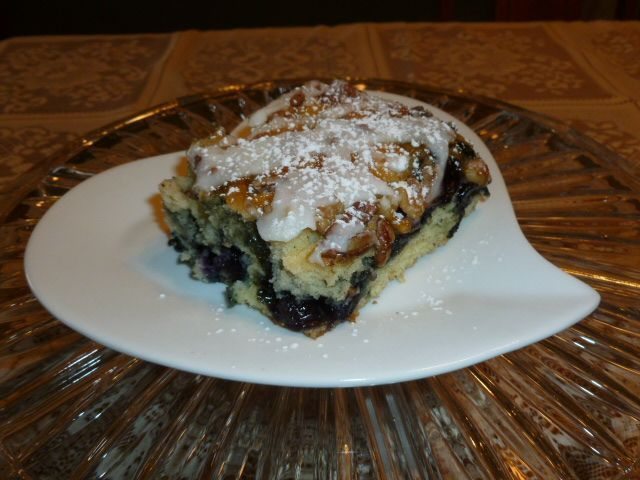 Ingredients:
1 cup pecans, chopped
1 loaf French bread
2 cups blueberries
8 eggs, large
3 cups half & half
¼ cup brown sugar
1 tablespoon vanilla
1 tablespoon cinnamon

Streusel Topping:
¼ cup butter, unsalted & softened
1 cup brown sugar, packed
2 tablespoons dark corn syrup
1 cup old-fashioned oats
¼ teaspoon nutmeg

Buttered Rum Sauce:
½ cup butter
2 cups sugar
1 cup evaporated milk
2 teaspoons vanilla extract

Directions:
Preheat oven to 350°.
Apply cooking spray to a rimmed baking sheet so the pecans can be toasted in the oven for 15 minutes. Set aside.
Slice the bread into 12 slices and next cut into 1" cubes. Layer evenly in a heavily greased 9" x 13" baking pan.
Sprinkle blueberries on top of bread.
Combine the eggs, half & half, 1/4 cup brown sugar, vanilla, and cinnamon and whip. Pour over bread.
Streusel Topping:
Combine the butter, 1 cup brown sugar, and corn syrup in a mixing bowl. Use a pastry cutter to blend.
Fold in the toasted pecans, oats, and nutmeg and mix just to combine.
Remove pan from refrigerator. Heat oven to 350°.
Set 9" x 13" pan on top of a rimmed baking sheet because the bread pudding tends to boil over.
Bake covered with foil for about 40 minutes. Remove the foil and bake for another 10 minutes.
Remove from the oven and let rest for 10 minutes before cutting so the servings hold their shape.
Buttered Rum Sauce:
Combine ingredients and heat to almost boiling in a medium saucepan.
Pour warm sauce over bread pudding and serve. Keeps in refrigerator for one week.
Total time needed: 1 hr. Serves: 12.